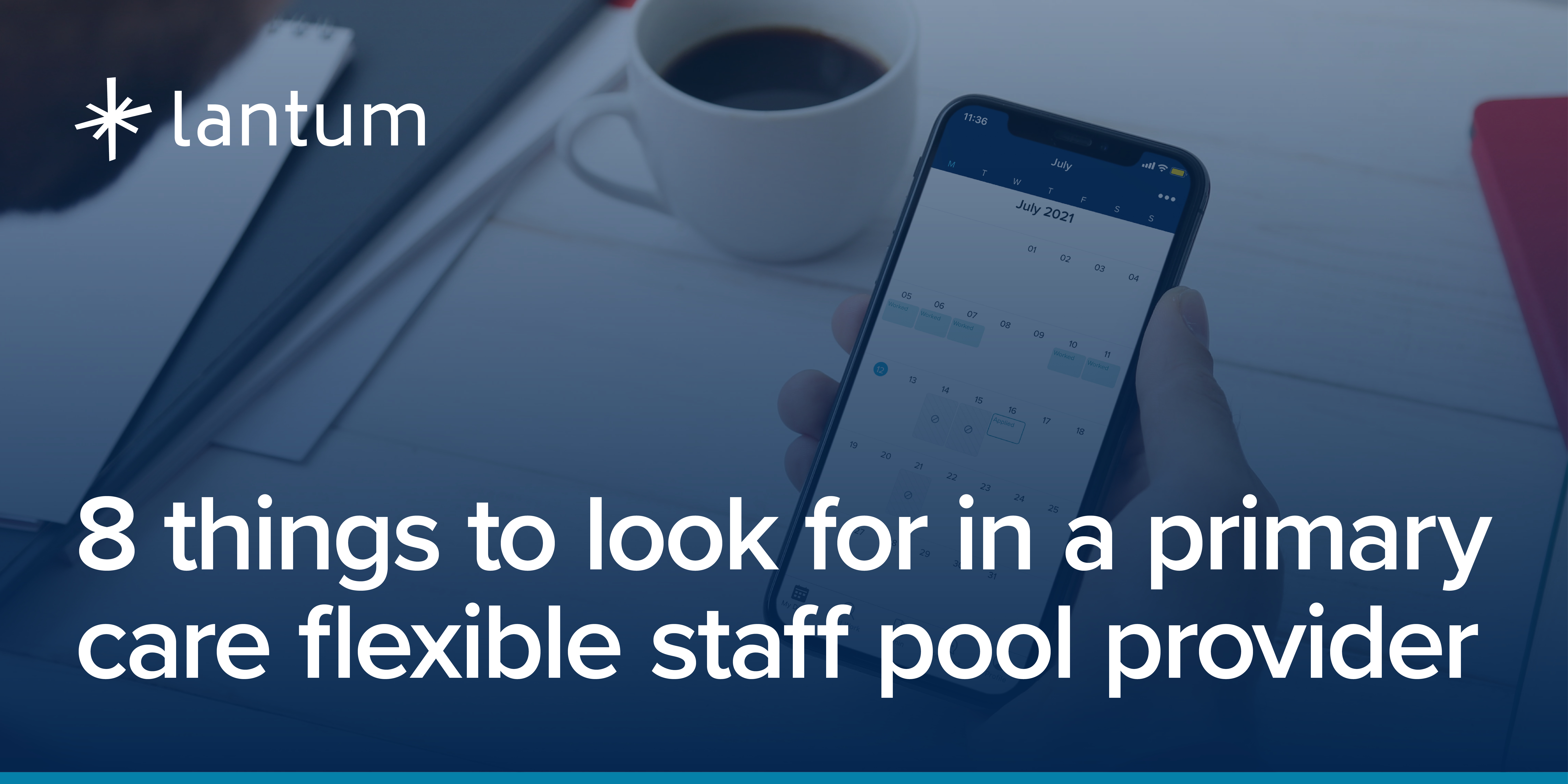 8 things to look for in a primary care flexible staff pool provider
NHS England has released the list of digital providers for their 2022/23 flexible staff pool provider framework, and Lantum's award-winning solution has received the highest score.
Find out what questions you need to ask to navigate the framework and find the best provider for your organisation.
1. Do you just get a staff bank, or do you get an end-to-end solution?
It's useful to have all your staff in one bank, but cost savings only come when that bank is easily integrated with your rota management. With Lantum, you can draw staff directly into your rota from the staff pool, and changes are instantly communicated to staff.
"It's all in one place, which is really key. Practices can book shifts further in advance and make them available to a much wider pool of primary care staff than was previously possible. Locum staff can also benefit from new shift opportunities being sent out to them rather than having to search for available shifts."
Alistair Lindsay, Associate Director, Primary Care Transformation, Development and Improvement at Kent and Medway ICS.
Find out more about Lantum's work with Kent and Medway ICS.

2. Can your provider connect you with a wider network of locum support?
Your staff pool helps you fill vacant shifts most of the time – but sometimes you need an extra safety net. Be prepared when you're short-staffed or experiencing high demand with Lantum's network of 30,000+ pre-vetted clinicians, available at a fraction of the cost of an agency.
3. Will your provider help you spend less managing locum clinicians – and the paperwork that comes with them?
Working with locums is a good way to fill vacant shifts, but clinical governance paperwork, invoicing, and pension forms just make your to-do list longer. Lantum automates pension, payment and booking admin, so working with locums is easy.
Perks like free DBS checks and next-day payments are available to all locums who work at an ICS through Lantum.
"Excellent platform to find work, easy to navigate. Payment is made promptly via Rocketpay, which is another great advantage of booking shifts on Lantum." Lantum GP, 2020
4. Does your provider help manage a wide variety of staff?
If you can't use one system for all of your salaried, locum and clinical staff, it becomes more trouble than it's worth. Lantum allows you to manage all different staff types in one place and will work with you to make sure the right staff types are available for your organisation.
5. Can your provider help you get set up quickly?
If signing up and seeing results takes a long time, your provider may not be focused on delivering success.
Lantum is already used by 1-in-2 GP practices across England, 300+ PCNs, 18 ICSs and has a network of 30,000+ locum staff. Our footprint means you can get your staff onboard and trained in just a few weeks.
6. Does your provider have the capacity to give you a smooth, predictable launch?
Getting up and running can take a lot of work, and a good provider will help ease the burden. Lantum has a dedicated Operations team of over 30 people, plus a tried-and-tested phased launch process so you always know what to expect.
7. Can your provider prove they can implement at a system level?
Some providers can build staff pools at a network level, but sharing staff and rostering at system level involves a lot more complexity.
At Our Dorset ICS, Lantum helped build out a digital staff passport that let them work seamlessly across the entire ICS. Now over 1,000 staff in 27 roles can work seamlessly across 250+ organisations.
Find out more about Lantum's work with Our Dorset ICS.
8. Can your provider help lift the compliance burden for sharing staff?
Working with staff between organisations means you need to have a clear way of tracking workforce credentials, effectively creating a clinical passport for staff working across your services.
"Before Lantum we had a huge headache around clinicians not being compliant with governance and training. Now, we are nearly at 100% of our workforce having all their governance documentation, and it's all stored centrally – which has been a game changer."
Jane Sadler, Head of Primary Care Access, Leeds GP Confederation
Find out more about Lantum's work with Leeds GP Confederation.
---
Get in touch today to find out how Lantum's Connected Scheduling™ platform can help you manage your workforce across multiple locations, centralise clinical governance documentation, and build a resilient workforce.