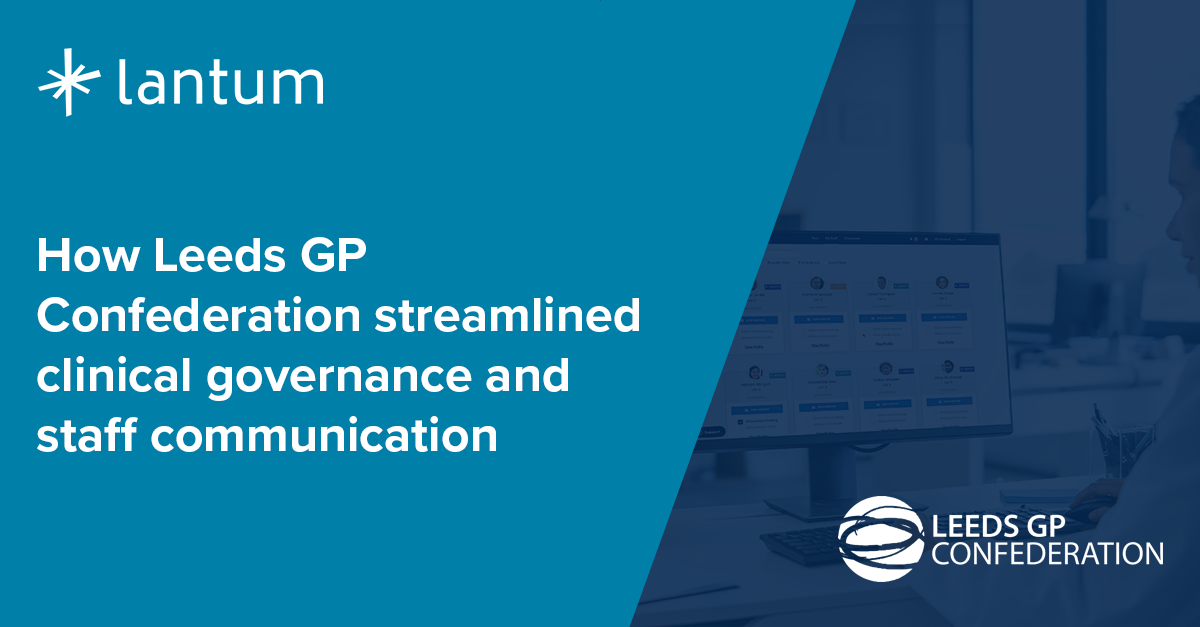 How Leeds GP Confederation streamlined clinical governance and staff communication with Lantum
Serving a population of 870,000 people, Leeds GP Confederation is a member-led organisation that brings together more than 90 GP practices throughout Leeds. When their contract with their current rota provider was coming to an end, they went back to the market to find an updated and forward-looking system.
The search for tools to enable Enhanced Access
With Enhanced Access on the horizon, Leeds GP Confederation had a number of requirements for potential new platforms, including:
More support for clinical governance
Leeds GP Confederation didn't have a centralised system for uploading, storing, and checking clinical governance documentation, which led to confusion and miscommunication.
User-friendly tools
Not only did the new platform have to be easy for rota managers and other leaders to use and read, but it also had to be intuitive enough for staff to adapt to quickly.
Enabling Enhanced Access
In addition to helping Leeds GP Confederation set up Enhanced Access hubs, the new platform had to help them gather metrics around additional hours and appointments provided to meet the core requirements of their contract.


An end-to-end solution
Lantum's rota tool was easy to use for rota managers. It could also support a number of different staff types and gave administrators insights into key metrics around delivering the core requirement of their Enhanced Access contract — CQC requirements, utilisation of appointments, and appointments delivered by non-GP clinicians.

With clinical governance support and a dedicated staff bank for efficient resource allocation, Leeds GP Confederation felt that Lantum could provide better support, understanding, and optimise their staffing, while also saving them hours of time previously lost to admin work.

Stronger clinical governance process and better communication



In the first few months of the partnership between Leeds GP Confederation and Lantum launching, 358 staff were onboarded across 16 staff types, and four staff types were created specifically for Leeds GP Confederation.
As a result of embedding Lantum, Leeds GP Confederation now has:
Centralised clinical governance
Clinical governance isn't a simple process, and a lack of visibility into approved documents can lead to problems with CQC regulations. The team at Lantum guided Leeds through the process of onboarding staff and organising clinical governance documentation, making sure everything was in order.
After four months, 80% of the staff's clinical governance documentation was uploaded on Lantum, with the goal of having 100% of the workforce upload documentation within the first half year.
Better staff communication
With all rota managers fully trained on how to use Lantum's e-rostering tools, it's easy for rota managers and staff to understand the rota and make sure staffing resources are being used effectively across Leeds GP Confederation.
Leeds GP Confederation also has access to Lantum's SMS bulk texting feature, so they can send out texts by site and staff types for better communication.
What's next for Leeds GP Confederation and Lantum
Early success has opened the door to more ways Leeds GP Confederation can integrate their existing systems with Lantum, including:
Getting 100% of their workforce up and running with governance documentation
Opening up shifts to the wider Lantum marketplace to find more clinicians
Hosting more opportunities for CPD-accredited events and training in the future.


---
Find out how Lantum can support your workforce needs
Lantum exists to unite clinicians and employers on one platform to help deliver the best patient care together. Connecting Scheduling™, Lantum's total workforce management solution, supports organisations to efficiently schedule staff, with a rostering solution, staff bank feature and network of 30,000+ locum clinicians all in one place.
Get in touch with a member of our team today to talk about how Lantum can transform your organisation.