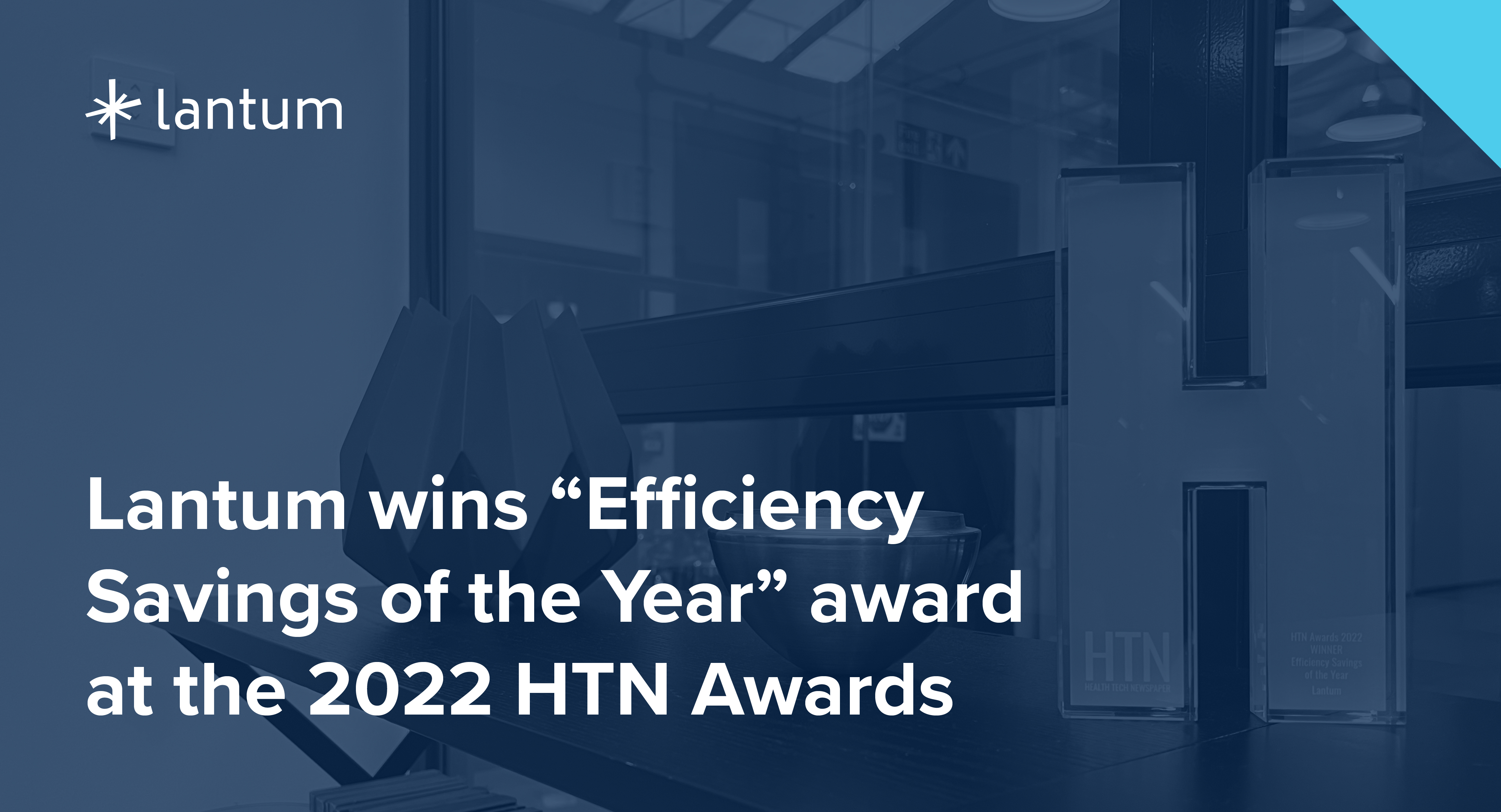 Lantum wins "Efficiency Savings of the Year" award at the 2022 HTN Awards
Despite being the fifth largest employer in the world, the NHS remains heavily reliant on expensive recruitment agencies and fragmented staff-led initiatives, like WhatsApp, spreadsheets and messaging groups to resolve staff shortages and schedules.
At Lantum, we want to transform this with a goal to reduce the NHS' £4 billion a year spent on temporary staffing. In recognition of our efforts, Lantum received the "Efficiency Savings of the Year" award at the 2022 HTN Awards from Health Tech News.
Lantum's Connecting Scheduling™ platform, a total workforce management solution, supports organisations to efficiently schedule staff, with a rostering solution, staff bank feature and network of more than 30,000 locums all in one place.
For NHS organisations across the country, Connected Scheduling™ empowers them with total visibility and control over their resources and staffing. With a multidisciplinary staff pool, they're empowered to:
Attract and retain talent
Avoid tedious admin or outdated workflows
Flexibly deploy staff to where they're needed most
And with updated infrastructure, organisations are able to meet any of the challenges the future holds.
The results so far
With 18 ICSs, 300+ PCNs and 1-in-2 practices using Lantum for workforce management, the nationwide impact is clear and consistent across the board. To date, our total workforce management solution has saved the NHS over £30 million. Further to this, Lantum fills upwards of 20,000 shifts across the UK every month.
Over the last 12 months alone, booking volumes through the platform have more than doubled and 14,000+ more clinicians were onboarded.
Lantum makes it quicker and easier to complete all admin associated with rostering and workforce management. When an NHS organisation adopts Lantum, they commonly see:
40% increased staff retention on average
Cost reductions of up to 40%
Increased staff satisfaction rates by up to 98%
75% more time for other tasks with automated admin
Lantum's rota tool helps you find and manage staff, whether it's through your organisation's staff bank or through Lantum's network of 30,000 vetted clinicians. Lantum makes the process of working with permanent and locum staff even smoother by:
Automating admin
Facilitating next-day payments through Rocketpay
Simplifying clinical governance and pension paperwork
You'll also spend less time on admin with pre-set shift types, custom reports, and automatic email and push notifications to notify staff of shift changes.
Promoting efficiencies during the COVID-19 pandemic
When the pandemic hit and the existing pressure on the NHS surged, Lantum noticed the impact it had on customers immediately. To help the NHS overcome these challenges, Lantum wanted to provide additional support where possible — not only to existing customers but also to the NHS as a whole.
When the vaccines were approved for use, Lantum offered their rostering tool for free to all vaccination clinics across the UK. Lantum supported healthcare workers and officials as they set up over 150 Covid-19 vaccination clinics, using rostering software to mobilise paid and volunteer staff. Understanding the urgency to start delivering the vaccine, we prioritised standing up the clinics, resulting in a turnaround time of as little as 24 hours.
To date, we've supported the delivery of over 16 million doses of the vaccine by mobilising close to 9,000 staff across 36 different roles to work across the different clinics.
By offering the rostering tool for free, Lantum has saved vaccination clinics approximately £250,000. Our support for the NHS during the COVID-19 pandemic earned us the 2022 "Best COVID-19 Solution for Workforce Management" award from Health Tech Digital.
See Lantum's impact in your organisation
Lantum is here to help you clear your to-do list and stress less. We'll onboard your staff to Lantum, creating a custom staff bank you can flex across your organisation to fill gaps and create rotas in just a few clicks.
Our team will guide you through the onboarding process, including:
Clinical governance documentation uploads
Rostering your entire staff and building your custom staff bank
Training practice managers and administrators on the platform
To find out what your organisation could accomplish with Lantum, book a call with one of our team today.