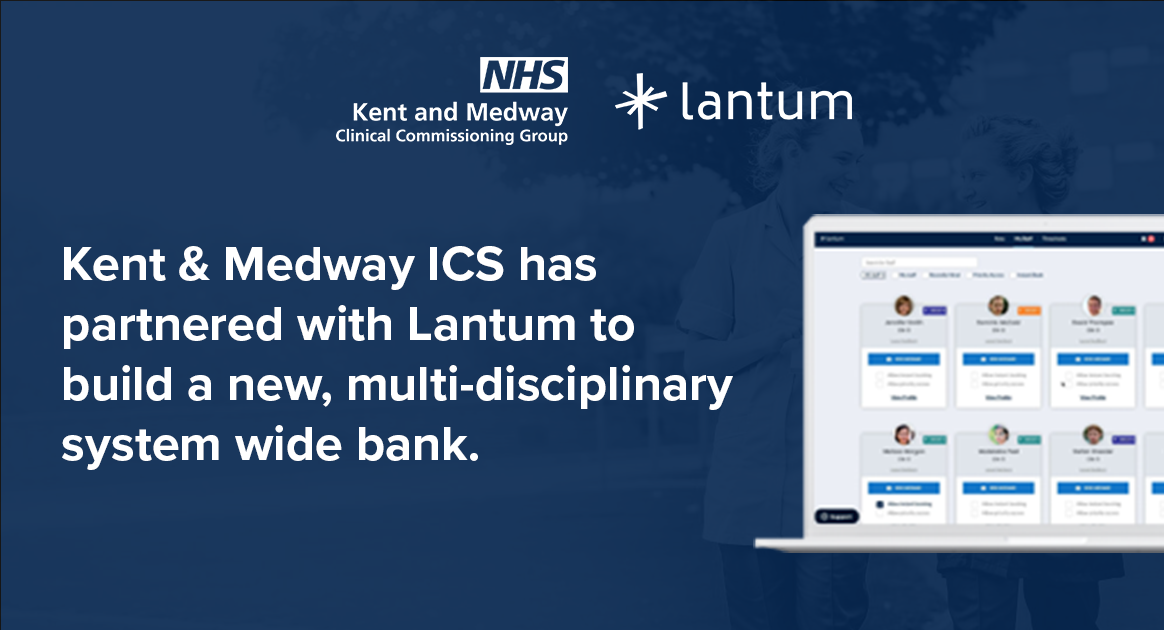 Building a multi-disciplinary staff bank with Kent & Medway ICS
Following the launch of NHSE funding for ICSs to invest in staff pools, we're pleased to be partnering with Kent & Medway to create a system-wide, multi-disciplinary staff bank.

Kent & Medway chose to invest the NHSE funding with Lantum after seeing the potential that our platform offers. As well as giving practices access to a flexible pool of staff who can be booked wherever they're needed, it will also help the ICS to:



Build resilience –

By making it easier for practices and services to fill shifts, share resources, and collaborate with other nearby PCNs.



Save money –

By paying just 1% fees to book temporary staff, rather than the high fees charged by traditional recruitment agencies.



Reduce time spent on admin -

By having just one platform to manage all bookings, with time-saving features like automatic shift notifications, consolidated statements and verified clinical governance documents.

Alistair Lindsay, Associate Director, Primary Care Transformation, Development & Improvement, Kent & Medway ICS said:

"Kent & Medway Clinical Commissioning Group are pleased to be partnering with Lantum to establish a Primary Care Workforce Locum Bank in Kent & Medway to reduce the administrative burden and cost to practices when booking locums and to support more flexible working opportunities for primary care staff."

The bank will be used by

198

Practices across

42

Primary Care Networks and

4

Integrated Care Partnerships, and will incorporate several different staff types, including GPs, Practice Nurses, Phlebotomists and Paramedics. As well as making the bank more valuable and effective, expanding across these staff types will also mean that more staff can enjoy the benefits Lantum offers, including:


Access to more working opportunities – Clinical staff will be able to easily access additional sessional work across the CCG, with notifications about opportunities that match their skills and location.


Quick invoicing and next-day payments – Lantum automatically generates invoices for shifts completed, and until June 2021, all clinicians will be able to enjoy free next-day payments through Rocketpay.


More visibility and control – Staff will be able to use the Lantum app to see and manage their bookings, and to quickly and easily share information such as clinical compliance documents or qualifications with Practice Managers.

Melissa Morris, Founder and CEO, Lantum said:

"We're proud that Kent & Medway chose Lantum to support them in delivering their integrated care workforce strategy. We have progressive plans to mobilise their workforce across a broad range of roles and skills and we can't wait to put them in motion."


To find out more about how Lantum could support your ICS with a digital staff bank, send an email to enquiries@lantum.com and our team will get back to you.