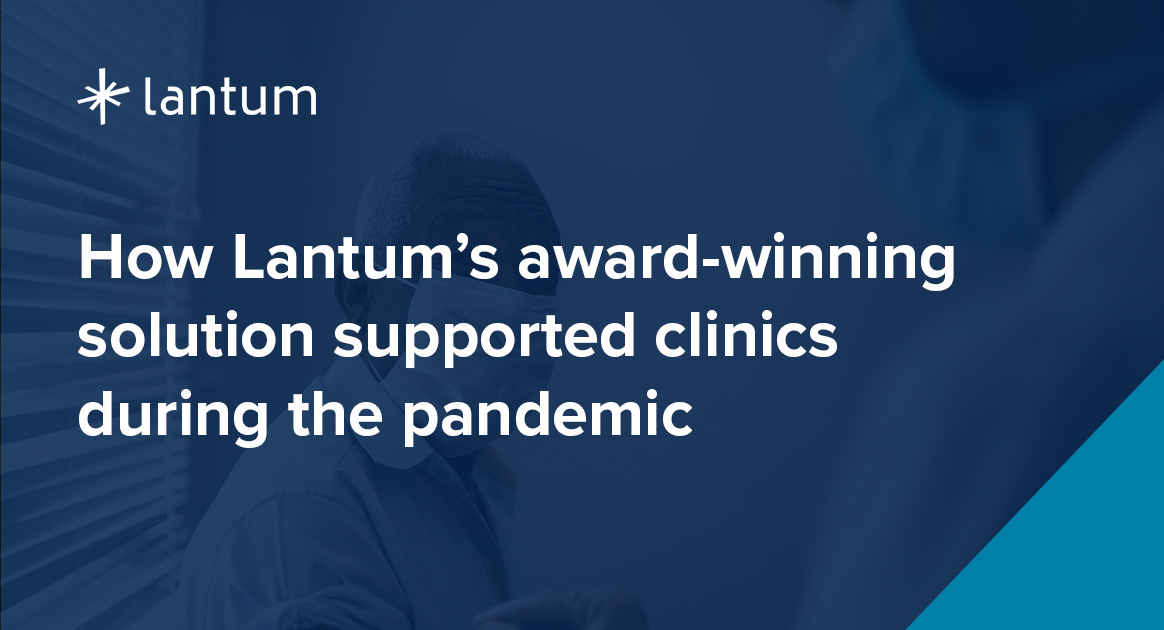 How Lantum's award-winning solution supported clinics during the pandemic
When the pandemic hit and the existing pressure on the NHS surged, Lantum noticed the impact it had on customers immediately. To help the NHS overcome these challenges, Lantum wanted to provide additional support where possible.

During the pandemic, Lantum's intelligent workforce management platform became the backbone of Primary Care, offering our powerful scheduling software to rapidly locate clinicians and fill shift gaps. We're pleased to announce that, as a result of our work, Lantum has been awarded the "Best COVID-19 Solution for Workforce Management" award from Health Tech Digital.
Deploying Lantum's rota tool for free to help rapidly stand up vaccination clinics
When the vaccines were approved for use, Lantum offered their rostering tool to all of their customers setting up clinics, waiving the fee to support every clinic throughout the duration of the vaccination programme.

Through the adoption of Lantum's rota tool, each vaccination clinic was able to deploy their workforce fast, with the ability to roster, review and respond in record time.

Lantum also managed the clinical governance requirements of all vaccination staff on behalf of every site, freeing up their time to focus on the important task at hand. All vaccination clinics received the same level of support as Lantum's paying customers, with full governance checks for any GPs and nurses that sign up to work at vaccine sites.

Acting with urgency to mobilise staff and deliver vaccines
After quickly seeing the positive impact doing so had on their customers, Lantum decided to open up this offer to every COVID-19 vaccination clinic in the country. Over 150 vaccination clinics were set up and operated through Lantum at no cost over the course of the vaccination programme — which is still happening today.
Without the rota tool in place, the 150+ COVID-19 vaccination clinics would have struggled to manage their staff (both paid and volunteer), find enough people to work at their clinics, and offer enough appointments to the general public.
Lantum has mobilised almost 9,000 staff across 36 roles for 150+ clinics. By having multiple staff types in one place, every clinic has streamlined their rotas, communication and admin, making it significantly quicker and easier to fill rotas. It also freed up valuable time to focus on more important tasks.
By offering the rota tool for free, Lantum has saved them £250,000+ in rostering costs. This amount doesn't account for savings made by reducing the reliance on recruitment agencies to fill any gaps in their rotas.
Lantum has supported the delivery of over 16 million doses of the vaccine — and counting.
Creating a centralised system for Shore Medical PCN
With just four weeks to stand up clinics, Shore Medical and Lantum worked closely to ensure all staff were fully trained on the platform. The process of adding multiple staff types went smoothly, and Shore Medical went live without any hitches.

Charlotte Grummitt, the PCN Manager at Shore Medical, said: "We used to rely on WhatsApp messages and phone calls to fill the majority of our vaccination shifts and struggled to maintain any single source of truth. Lantum's rota tool completely solved that problem, sending out automated messages to notify staff of shifts and keeping a historical audit trail of all activity, meaning disputes are now non-existent. The Lantum team has been so dedicated and responsive and I'm looking forward to growing our partnership to cover flu vaccines and Extended Access in the near future."
Improving reporting and rota management at West London GP Federation



By standing up their sites on Lantum, West London GP Federation:

Reduced the time to organise and complete rotas for the vaccine clinics
Shared Lantum's customer support contacts directly with staff and volunteers, allowing them easy and direct access to technical support as needed
Improved collaboration between the different PCNs
Reduced time spent on the rota and dealing with direct requests from staff

One of the COVID-19 Vaccines Operations Managers at West London GP Federation said: "I've been running a Covid vaccine clinic for almost 6 months. At the start, all our 1,000+ volunteers used good old-fashioned email to put themselves on the rota for up-and-coming clinics. And then came Lantum!

The transformation was essential, not only for efficiency purposes, but it also meant we've been able to pull together valuable data and reports, as well as giving the admin team time back to allow us to do other things."
Looking ahead to new opportunities
Although the vaccination project looks much different now than when it was first rolled out, Lantum continues to be a key part of how clinics staff and deliver vaccinations, as well as all other types of services.
Connecting Scheduling™, Lantum's total workforce management solution, is used by 18 ICSs, 300+ PCNs and 1-in-2 Practices to efficiently schedule staff, transform fill rates, reduce time spent on admin and more.
For more information about how Lantum can support your workforce management, book a quick call with one of our team.