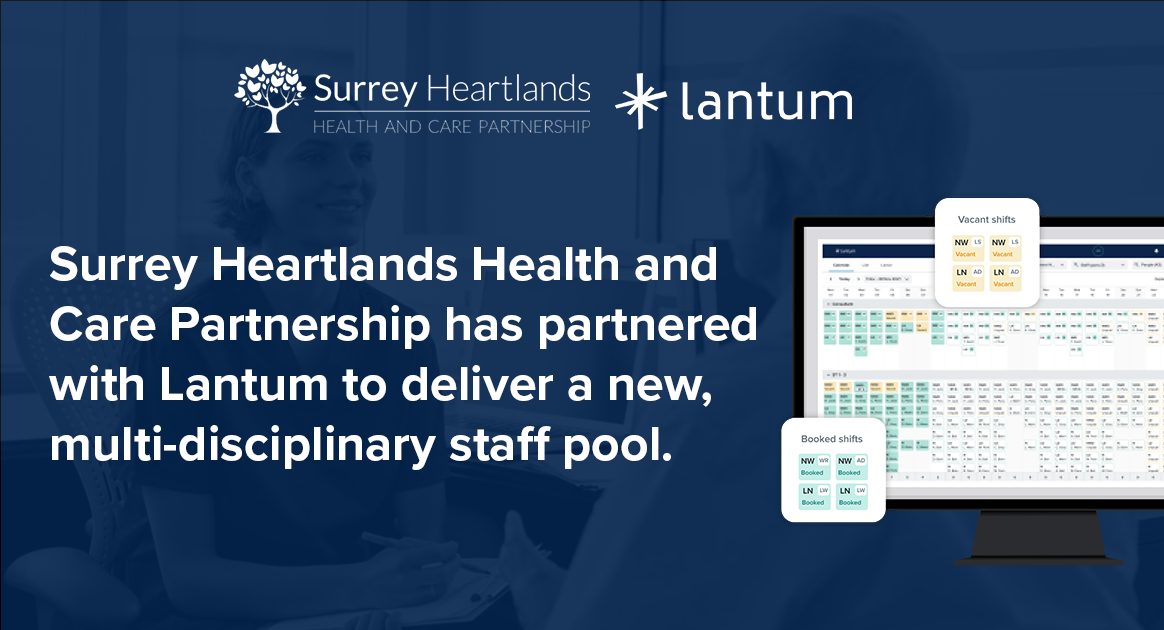 Building a staff pool for Surrey Heartlands Health & Care Partnership
We are pleased to announce our partnership with Surrey Heartlands, which will deliver a flexible, multi-disciplinary staff bank that will be used across their System.
Surrey Heartlands made the choice to invest the NHSE funding into partnering with Lantum, after seeing the success other Systems had achieved by doing so.
This collaboration will create an agile staff pool of primary care professionals, both clinical and non-clinical, that will provide additional support and strength to the 104 GP practices and 25 PCNs across the ICS.
As well as giving practices access to the flexible pool of staff, Lantum will also help the ICS to:
Build resilience
Save money
Reduce time spent on admin
Jamie Wright, Primary Care Workforce Development Lead at Surrey Heartlands CCG, said:
"We are delighted to announce that we are collaborating with Lantum to support the workforce needs of our practices and PCNs. We are really looking forward to developing the partnership to the benefit of both our practices and citizens."
Beyond providing additional support to the practices, the new staff bank will also bring a number of benefits to the staff in it, including:
Access to more working opportunities – Clinical staff will be able to easily access additional sessional work across the ICS, with notifications about opportunities that match their skills and location.
Quick invoicing and next-day payments – Lantum automatically generates invoices for shifts completed.
More visibility and control – Staff will be able to see and manage their bookings, and to quickly and easily share information such as clinical compliance documents or qualifications with Practice Managers.


Melissa Morris, Founder and CEO, Lantum said:
"Being selected by Surrey Heartlands to build a network of clinical and non-clinical staff across their region is an honour. Lantum's tried-and-tested approach can't wait to support them in achieving this."

To find out more about how Lantum could support your organisation with a digital staff pool, send an email to sam.champion@lantum.com, and our team will get back to you.