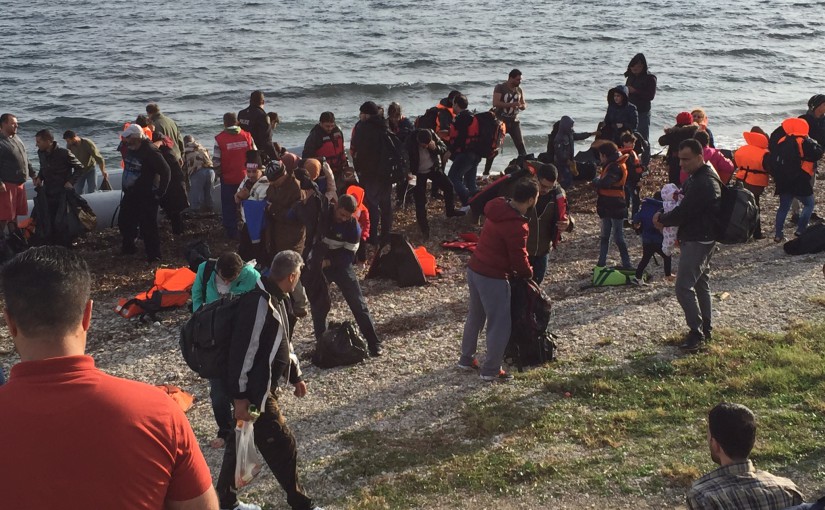 GP volunteers in the Lesbos Refugee Camp
In the wake of the Paris attacks, a GP and nurse team from Essex were heading out to volunteer amongst the refugees in Lesbos. Claire Davies speaks to Dr Farida Bhatti about her experience.
It's an early November morning on the Greek island of Lesbos. Once a holiday island, its volcanic mountains are dotted with olive groves. The tavernas are shaded by vines.
But Lesbos is now receiving thousands of Syrian, Iraqi and Afghan refugees who arrive daily in inflatable boats. Launched into the Aegean sea by smugglers on the Turkish coast, the refugees are shown the rudder of the boat and simply instructed to aim for the light that is Lesbos, a few kilometres away.
Above, a plane lands at the coastal airport carrying a team of medical volunteers from Great Bentley Surgery in Esssex, GP Farida Bhatti, practice nurse Bonnie Beard and their former registrar and now locum, Selina Bowry. Looking below them, they can already see more refugees arriving on the beach.
Having travelled overnight, the team immediately set to work in the makeshift refugee camp, operating from within 3 medical tents run by the Non Governmental Organisation (NGO), Refuaid. As thousands of new arrivals queued to register at a central compound organised by the Greek government, a lucky few are taken into the central dormitory but the rest make do in tents in the rocky surroundings.
Looking back after the trip, Farida, a GP partner, recalls most of the medical work in Lesbos was straightforward. "Nothing medically challenged me," she says. "Most of the problems were minor ailments – ideal work for a GP."
But there were still major difficulties to contend with. One of the first things Farida, as a Muslim, is asked to do is to assist with washing the bodies of 56 people (including 6 children) for burial – until the Islamic UK charity SKT Welfare are able to step in.
The general state of the camps and refugees was also hard to witness. "Nothing prepares you for the dehumanisation of these people. They have no food, no water. And that everywhere you look, there are more people like them. I wasn't prepared for that."
Medically, the team treated people suffering from shock, cold (winter night temperatures on Lesbos go down to 4 degrees C) and chest infections as a consequence of people burning plastic to keep warm.
"There is also a lot of hunger. Women are losing breast milk due to dehydration. There are also no toilet facilities whatsoever. Women are desperate for something to stop their periods. You think you are going out there to be a hero but you're not. We had to rethink what these people really wanted and that was food."
Having crowdfunded their trip, the team were able to spend 600 euros in a trip to the local Lidl and then distribute plastic bags of fruit and biscuits. In spite of the devastation amongst the refugees, they found that there were no scuffles or violence. People queued patiently for food, the men standing back to prioritise women and children.
"Hearing people's stories was the hardest thing. When you look at the children, you see your own children's faces."
Recalling a 14 year old girl who was freezing and soaking wet having been stuck in the water for 6 hours, Farida described how the girl remained mute from shock.
"There was a lot of acute shock; of those who were mentally traumatized. There was a particular gaze they had. The look on their faces never stops."
What about other clinicians who are thinking of volunteering?
"Don't just turn up on your own," she recommends. "You need to go with an NGO to get registered. In some ways it's easier to go with a smaller organisation whose recruitment processes can be quicker. And it's important to go out with a team so you can support each other. In many ways, volunteers with no medical skills are probably more use. They need people on the beaches with dry clothes, blankets and food."
In spite of the difficulties, Farida is already planning another trip in March.
"Yes, it's hard to process. But I'm going back again. There's a strange draw to do it, which I can't describe. People have asked since I got back if I felt I contributed anything worthwhile and I would say yes. While you can't change the situation, you end up contributing something. Your kindness humanises these people."
Network Locum (now Lantum) has contributed £100 to www.refuaid.org, in recognition of the contribution clinicians can make to the refugee crisis