Surviving and thriving as a newly qualified GP
By guest blogger Dr Natasha Behl Gupta
I qualified as a GP last summer and started my career, as many will do, as a locum in an inner-city area.
Although I was prepared for the role by my ST3 practice, it was a transition to a new area and a new way of working. Even so, I relished the newfound liberation from agonising over blood results, home visits and Docman!
As I look back, I thought I would share a few thoughts on how to make life easier as a newly qualified GP.
Get the basics done: arrange your indemnity and join a platform like Lantum so you can locum in a variety of practices and gain experience with different operating systems. SystmOne was new for me but this is the easiest time to learn. Make sure to register with HMRC for self-assessment and start thinking about what kind of GP you wish to be. There are more than 250 nationwide GP Fellowships in a variety of settings and specialties to pique your interest.
Even though you have now reached the 'promised land,' be aware that there will be choppy waters ahead. You will need to negotiate your rates as well as the type of sessions you want (locum or salaried/partner). Some days may be stressful, so make sure you have a few strategies to de-stress and detox.
Despite the negativity around general practice in the mainstream and sometimes on social media, this path still offers the opportunity to tailor your career to your interests, lifestyle and ambition. From my year, colleagues have moved into out-of-hours work, occupational health, aesthetic medicine, academic positions, repatriation medicine, salaried roles and partnerships, or locum work. Some have even emigrated to Australia.
As to my own experience, after a short stint in North West London, I moved to Solihull and commenced my Post CCT GP Fellowship in Rheumatology in Birmingham at a super-practice. This has been a fantastic experience, enabling me to work across the hospital, in the community, and as a GP, all while developing new skills. I've thoroughly enjoyed the chance to interact with other Fellows, pursue a postgraduate diploma, develop a special interest and expand the service.
All the best with your careers and remember – every cloud has a silver lining!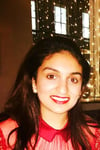 Dr Natasha Behl Gupta
GP Fellow in Rheumatology and MSK Care
Twitter: @doc_natasha
LinkedIn: Dr Natasha Behl Gupta