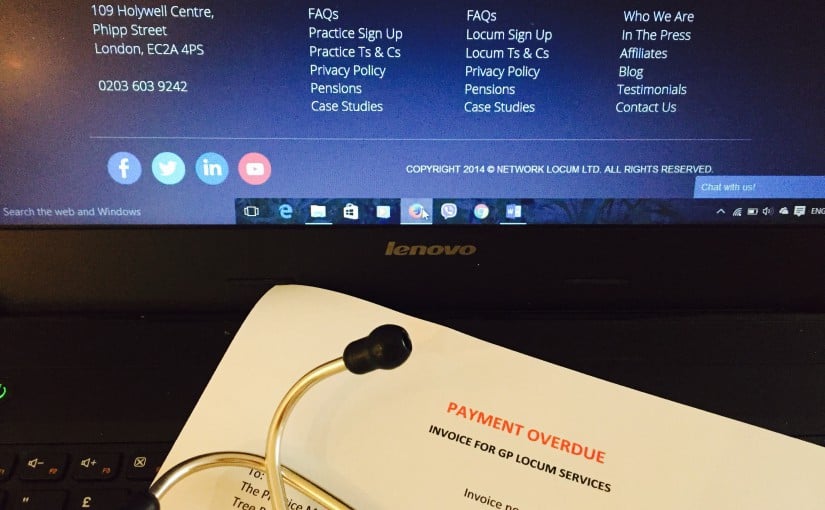 How to deal with late payments as a locum GP
Talk to any career locum and they'll tell you that once in a while, they had trouble getting paid.
As a locum, late payment affects your cash flow and also could jeopardise your pension payments which have to be paid within 10 weeks of the session date.
Take steps to avoid late payment in the first place
Invoice promptly – don't leave it until a month later to send your invoice and then expect to be paid on the next day.
Consider having your pension form signed during your final session even if you are yet to receive payment.
Make late payments less likely by having decent terms and conditions which include a late payment surcharge. Highlight this surcharge in your initial invoice.
In the meantime, here's what to do if you haven't been paid.
Think about your relationship with them
Is this a place you otherwise like working and they are simply disorganised? Or are they notoriously mean and you don't want to go back there again.
If it's the former, it may be worth cutting them some more slack. A phone call to the practice manager is often more fruitful than an email. Specify a time frame in which you want to be paid.
If this fails to result in payment, then you can apply a late payment surcharge as per the Late Payments of Commercial Debts Act.
What if I still haven't been paid?
Send your invoice via recorded delivery with a letter highlighting any late payment surcharge. Mark that invoice is overdue in red.
If this fails to result in payment, then send a further invoice marked 'final reminder.'
What if the practice are still refusing to pay me?
Failure to pay you at this point is rare in the NHS.
In the unusual event that you find yourself in this position, you have a number of options.
One option is to take the practice through the Small Claims Court to recover the fee. This can be done online. You will have to pay a fee.
Other possibilities are using a debt collection agency or a solicitor.
A few things to consider
Many practices run their payments monthly – you may have just missed that month's payment.
You have delivered a service and have a right to prompt payment in the same way as any plumber or electrician engaged by the practice. If payment becomes very overdue, don't be fobbed off by the rare person who will make you feel as if you are a nuisance or being unreasonable.
Network Locum (now Lantum) is an online platform where work is booked directly between the practice and the GP. For problems with late payments, GPs should initially approach the practice directly to try and resolve the matter before involving Network Locum (now Lantum).