How to upload documents and be approved to apply for jobs
Once you're all signed up, you'll need to upload your documentation for approval by our Head of Clinical Governance, Dr Susie Brennan.
How to upload your documents
From your profile, simply click on 'upload documents'
You will arrive at this page: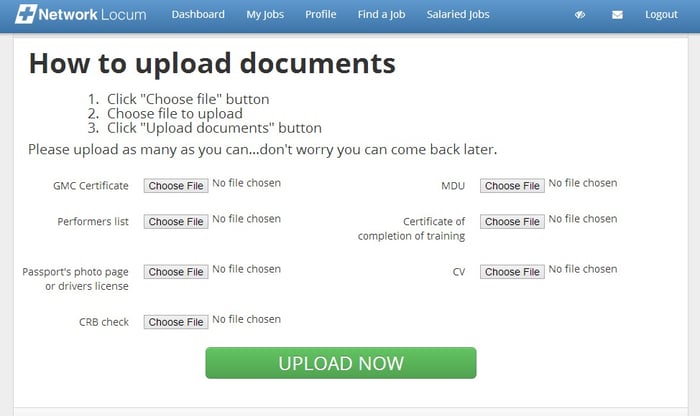 Simply click on 'Choose File' and find the corresponding files in your computer. Once you have chosen them all, click 'upload now'.
(Files can be in PDF or Word format or as JPEG, PNG, GIF etc)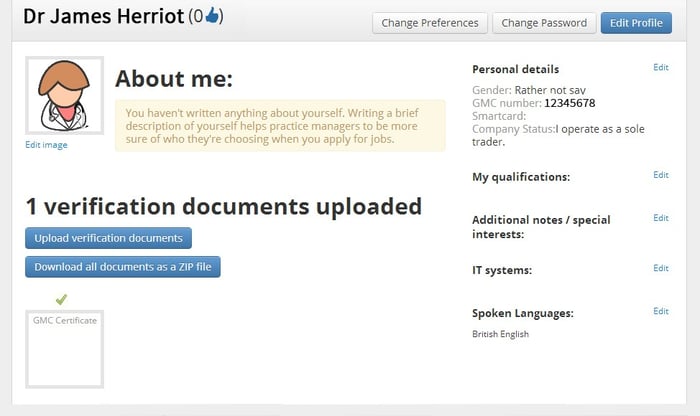 When you've uploaded all your documents, we'll then be able to approve you, so that you can start applying for jobs.
(If you don't have a scanner but do have a smartphone, you can use the Turboscan app on iPhone or Camscanner on Android to easily digitize your documents.)
The essential documents we need:
1. In date MDU Certificate or Medical indemnity (MPS/ MDDUS).
2. CV
3. CCT (GMC CCT/PMETB/JCPTGP)
4. CRB (Enhanced DBS) which is no more than 3 years old.
If you don't have a CRB check yet, or your current CRB has expired, you can apply/renew through Network Locum (now Lantum). Find out more about making an application here.
5. Photo ID - Passport or Driving license
(These documents will be seen by our Head of Clinical Governance and the practices you apply to. Under the data protection act, we'll never sell or share your data with third parties.)