New and innovative ways need to be thought of to reduce GP referrals, and Locums should be central to the solution
In November 2011 a Southwark CCG proposed plans to 'ban' locum referrals. Any of you reading the trade press or keep up with twitter that day would know that this caused a real stir in the GP community. Comments from GP partners and locums alike littered the trade press hailing the idea 'insulting' and 'patronising'.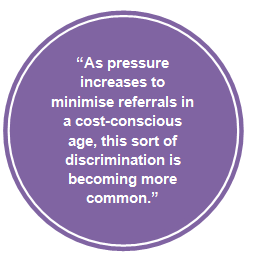 This is not an isolated case, locums have been singled out like this for a long time; and as pressure increases to minimise referrals in a cost-conscious age, this sort of discrimination is becoming more common.
Unfamiliar and varying referral pathways and the fact that as a locum, you'll likely not find out the outcome of many of your referrals are usually people's reasons for wanting to restrict locum referrals. If you don't understand and you have no incentive then you won't do it properly. As the focus nationally is to improve and increase out of hospital care we can kind of see the rationale.
...Not that we agree with it.
Notwithstanding the fact that the system cannot take the additional bureaucracy of super- monitoring locum referrals, it is possible that by not involving locums in this very critical area, improvement is being stifled.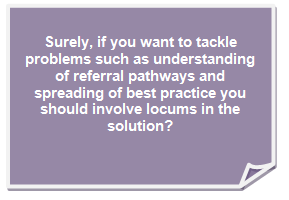 Surely, if you want to tackle problems such as understanding of referral pathways and spreading of best practice you should involve locums in the solution?
Everyone knows that involving people in designing systems gives a better sense of ownership. But not only that, they experience practices across boroughs and are ideally placed to spread best practice. Something that the NHS has been struggling with for a very long time.
I was lucky enough to have some time recently with Dr Liliana Risi, a Locum and CCG lead for cancer and End of Life Care. Her work in Tower Hamlets is an inspiration (for those that are not aware, she created a GP quick reference guide for locums on palliative care pathways). She has been heavily involved in advocating for locums to be members of CCGs (as we at Network Locum (now Lantum) have also been endorsing – Locums as Clinical Commissioning Champions – Part 1 & Part 2 ) and also putting pressure on CCGs to develop and update communication lists.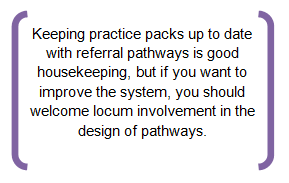 Keeping practice packs up to date with referral pathways is good housekeeping, but if you want to improve the system, you should welcome locum involvement in the design of pathways.

The locum referral ban in Southwark was eventually dropped, but it is a symptom of a wider problem stemming from locum isolation. There is a greater need than ever before to think of innovative ways to reduce GP referrals; but people need to think outside of the box rather than impose mindless 'bans' which only add cost and reduce the quality of patient care.
The above article is written by Melissa Morris, Founder of www.NetworkLocum.com, part of a series of opinions on the NHS reforms on this blog.
If you have any questions or comments, please contact Melissa
melissa.morris@lantum.com