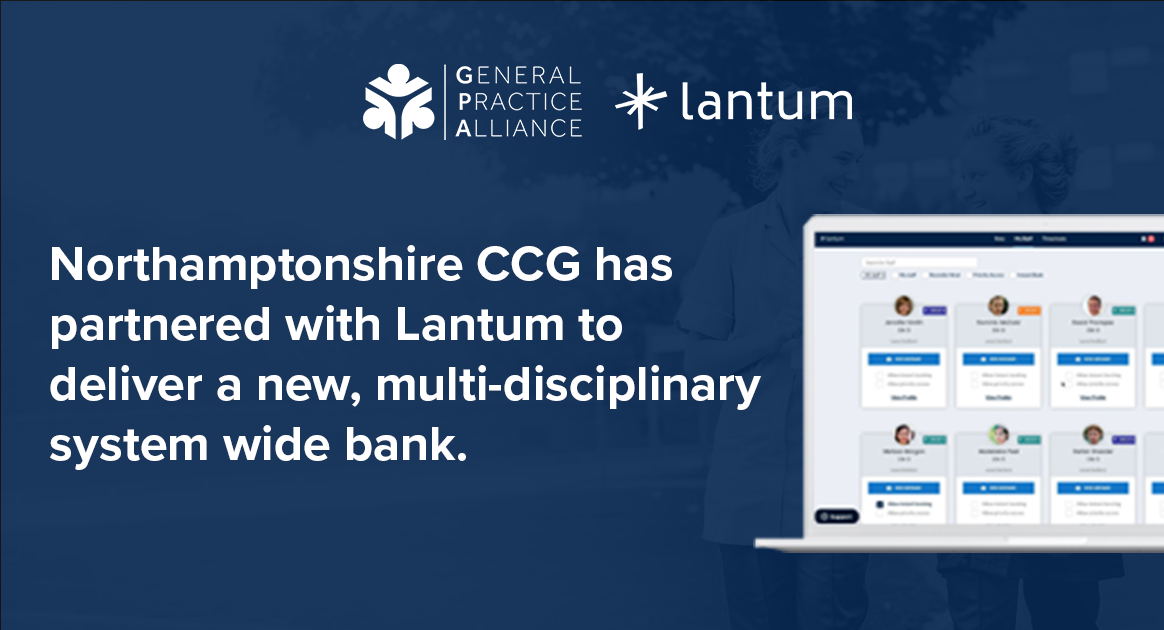 Northamptonshire CCG partners with Lantum to deliver new staff bank
We're proud to announce that Northamptonshire CCG (GPA) and Northamptonshire Training Hub have extended their partnership with Lantum to build a multidisciplinary, system-wide staff bank.

GPA and Lantum have worked closely together for a number of years, with Lantum supporting the CCG on a number of projects including enabling the rapid launch of their Extended Access Services.

Using the ICS funding from NHS England, GPA will set up a collaborative staff bank on Lantum that will be used by 69 Practices and 16 PCNs across the system.

Beyond giving practices access to this flexible pool of staff, Lantum will also help the CCG to:
Build resilience
Save money
Reduce time spent on admin
Daniel Kane, Chief Executive Officer at GPA, said:

"We are very much looking forward to expansion of the General Practice workforce through Northamptonshire Training Hub building on our successful partnership with Lanntum."

As well as providing additional support to the practices, the new staff bank will also provide a number of benefits to the staff in it, including:
Access to more working opportunities across the CCG
Quick invoicing and next-day payments
More visibility and control over their bookings
Melissa Morris, Founder and CEO of Lantum, said:

"Being selected by Northamptonshire to launch their digital workforce bank is so exciting. We have been supporting primary care organisations in the area for some time and it's fantastic to be able to support the region in a more strategic way."


To find out more about how Lantum could support your ICS with a digital staff bank, send an email to enquiries@lantum.com, and our team will get back to you.