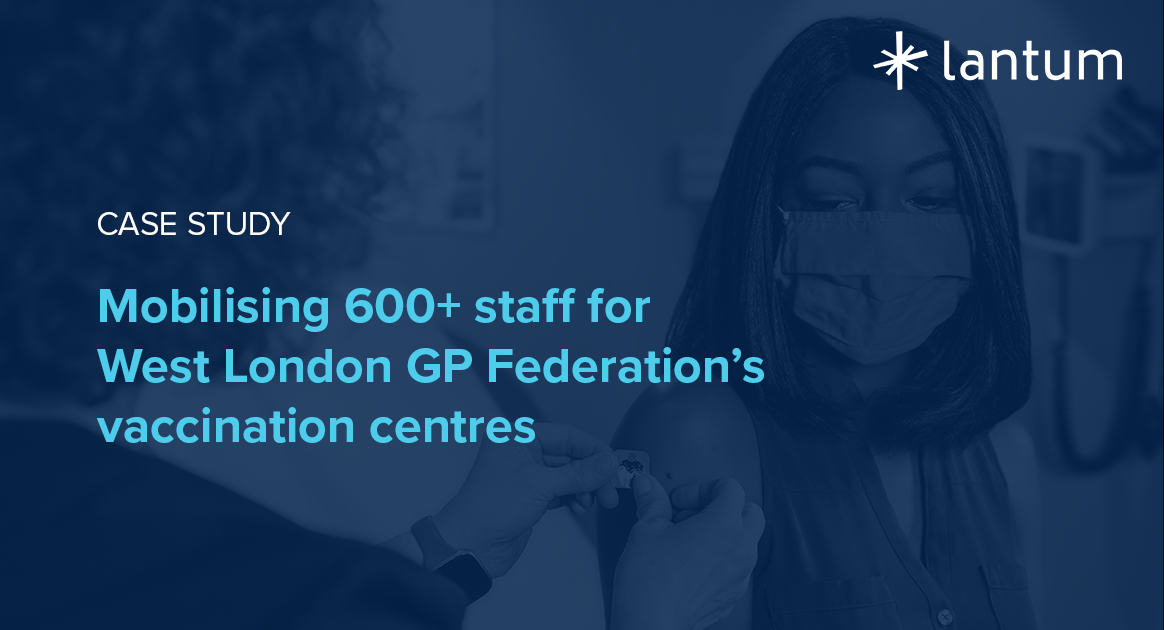 Mobilising 600+ staff for West London GP Federation's vaccination centres
As a Federation of over 40 practices and more than 700 healthcare staff, London Medical Associates West London GP Federation needed to work collaboratively and efficiently to continuously deliver excellent care for their population.
With the rapid introduction of the Covid vaccine programme, the need to be both efficient and agile, whilst running an effective safe service, increased. To meet these needs LMA West London GP Federation rapidly stood up two Covid Vaccine Hubs, supporting 4 PCNs. The demands of the 7-day service rapidly grew, and with this the Federation recognised that a key area to address was the management of staff and volunteer rotas to ensure safe, effectively staffed clinics.

Time for a change
Initially the process of building rotas and filling shifts was being completed manually, using manual spreadsheets, and shift requests being managed over email. This process was a time-consuming way of working and increased the potential for error or duplication in communication.
To improve the experience for service users and staff LMA West London GP Federation partnered with Lantum to:
Automate a range of manual processes
Reducing the time spent on admin, and making the process of filling shifts faster.


Build a bank of volunteers and staff across different PCNs
Allowing communication to volunteers of shifts across the vaccine clinics, and enabling easy reporting to look at practice contributions and plan for future needs.


Improve communication with their valued volunteers
Making it easy to book and keep track of shifts, as well as being able to quickly mark availability.
By partnering with Lantum, LMA West London GP Federation were able to implement support at scale across their PCNs, and could also incorporate vital compliance into staff profiles and rotas.

Key results
Lantum were able to rapidly develop a customised product and experience for the Federation, this has enabled LMA West London GP Federation to:
Reduce the time to organise and complete rotas for the vaccine clinics with an automated system that helps fill shifts for the Federation.


Use Lantum's customer support, allowing staff and volunteers easy and direct access to technical support - This has had positive feedback and supported the wider staff and volunteer group in using the system effectively.


Improved collaboration between PCNs - Implementing Lantum across the Vaccine Hubs has been a valuable experience for the Federation and PCNs in implementing a digital project collaboratively, and has highlighted important learnings for future projects.


Dr Ishani Patel, Co-founder of Lantum, said: "Sustainability for the primary care workforce has become increasingly challenging. Working with West London, we are beginning to see the impact of the Lantum solution to staff services reliably and integrate the help-force. This serves not only the vaccine rollout in the short and medium term, but hopefully also provides the basis for future primary care network and integrated care system goals for community and population health."
-
To support phase 3 of the vaccination effort, we're offering free use of our scheduling and rota tool to all sites new to Lantum. To learn more and and to get your sites up and running on Lantum in one week, click here or send an email to enquiries@lantum.com.