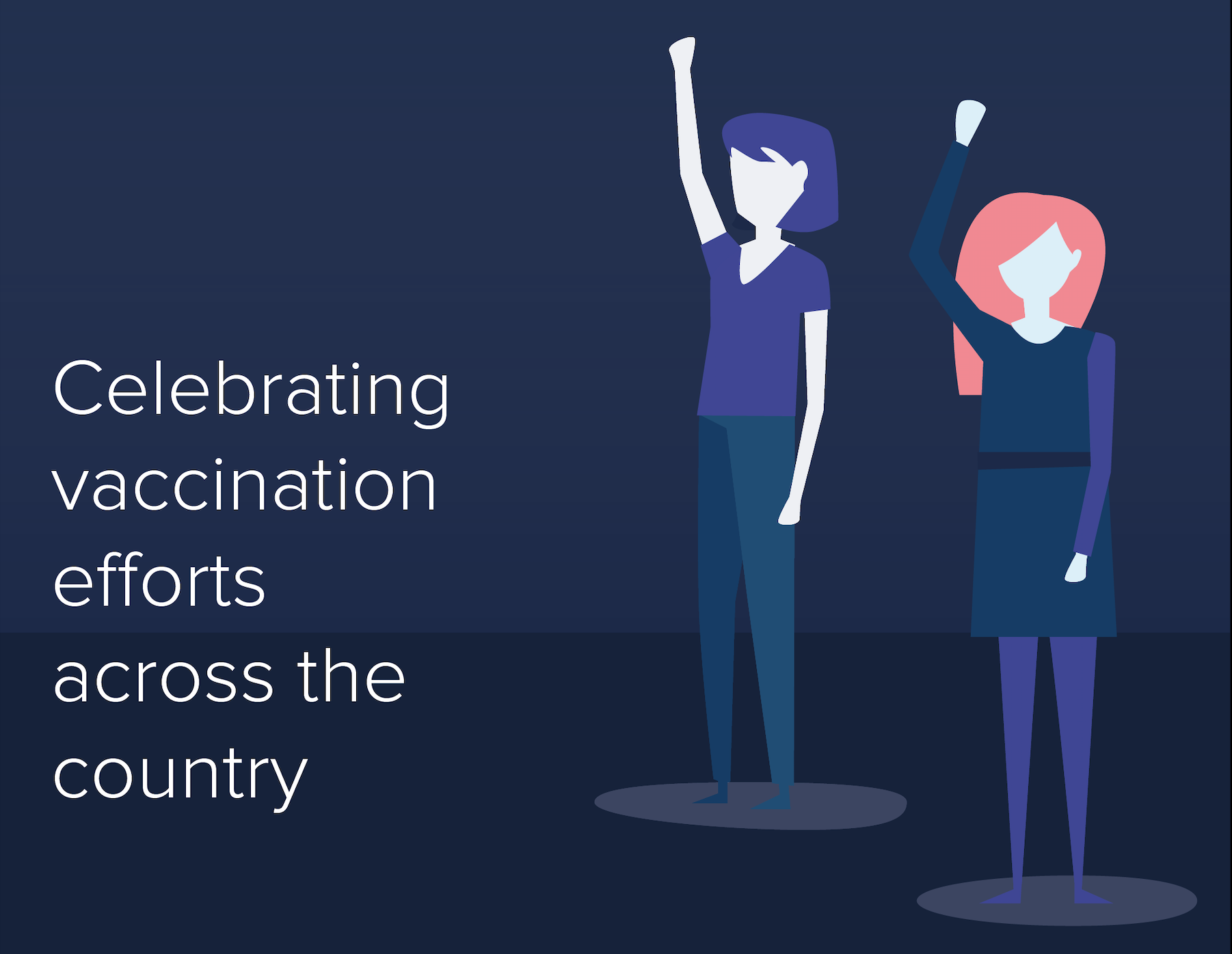 Celebrating vaccination efforts across the country
Last week, the NHS hit the incredible target of vaccinating 15 million people in just over two months.

As Primary Care systems continue to do amazing work, we've been proud to support them with our Connected Scheduling platform that makes it easy to organise and roster staff across vaccination sites.

So, to celebrate this important milestone, let's take a look at the great work being done at some of those sites.
Alliance for Better Care deploys over 1,500 staff – exactly where they're needed

A GP Federation that unites more than 40 practices, Alliance for Better Care (ABC) set up their first vaccination site in December and have already vaccinated over 65,000 patients.

They're using Lantum to host a bank of over 1,500 staff, and to manage rotas and deploy the workforce across 10 sites – including one of the UK's very first mobile vaccination sites.

ABC set up the travelling vaccination bus in response to their population's unique needs. The mobile clinic makes sure that harder to reach groups in the community can have their vaccinations in an accessible, friendly environment – and so far it has been a great success, vaccinating more than 100 people on its first day of opening.
Created in partnership with the region's transport provider, Metrobus, it's a great example of how public services are coming together to support the vaccination programme. ABC Chief Executive, Katherine Saunders, said:

"Alongside our numerous partners we rolled out a vaccination programme in a matter of days just before Christmas. A project of this scale would normally be many months or years in the making and the achievement of ABC and all its partners therefore cannot be underestimated."
Greater Manchester fill over 20,000 shifts in one month

The vaccination effort in Greater Manchester is on a huge scale, with Mayor Andy Burnham announcing that the region has so far vaccinated 639,128 people. Continuing our work alongside Greater Manchester Health and Social Care Partnership, we've been pleased to support the set up of some the area's many vaccination hubs.
Staff in Greater Manchester CCG were initially running vaccination sites using Excel spreadsheets, but the inefficiency of calling and emailing staff and redistributing rotas every time an update was made meant it was unsustainable – and taking up too much of the clinical director's time. Instead, they decided to move to Lantum.

With the workforce ready to go and willing to adapt, it took only two days to go from onboarding staff to Lantum to posting a rota with an 80% fill rate – and at one site, they filled all admin sessions for one week within seven minutes. Since then, rota management has been quicker and easier, even as the number of shifts being posted and applied to each month has increased by 400%, to over 20,000 in January.
Manchester CCG is now adopting the same system across all seven sites – helping to reduce the administrative burden and increase efficiency as the vaccination programme moves into the next phase.
Harness Care launch a one-of-a-kind site and deliver 1,300 vaccinations a day

Harness Care, a GP federation of 20 practices, are operating two vaccination sites in North London with support from Lantum – and one of those sites has been making headlines as Europe's first vaccination centre in a Hindu temple.
The site at Shree Swaminarayan Kingsbury Mandir was created in partnership with temple leaders in the hope that it would encourage further uptake of the vaccine among South Asian and wider BAME communities.

Since opening on 28th January, Harness have used the Lantum staff bank and rota to schedule multiple staff types – from GPs to administrators, nurses and even paramedics – and achieve their goal of delivering over 1,300 vaccines a day. Members of the temple community have also been helping the effort by delivering IT, logistical and stewarding support.
Recognising the site's importance, Mayor of London, Sadiq Khan, and NHS Chief People Officer, Prerana Issar, have both visited the site and praised the community spirit at work. As a GP within Harness Care, Lantum Co-Founder Dr Ishani Patel is especially proud of the success so far. She said:
"It's been amazing to see everyone pull together to make this vaccination site possible, and the response from the community so far has been great. Knowing that Lantum has helped make it happen is the icing on the cake."
Lantum can support your Covid-19 vaccination hubs and increase shift fill rates to an average of 87% thanks to a staff bank that lets you deploy multiple staff types across multiple sites, and an integrated rota tool that makes scheduling easy and automatically updates staff of any changes. Find out more here, or get in touch for a no-obligation consultation.