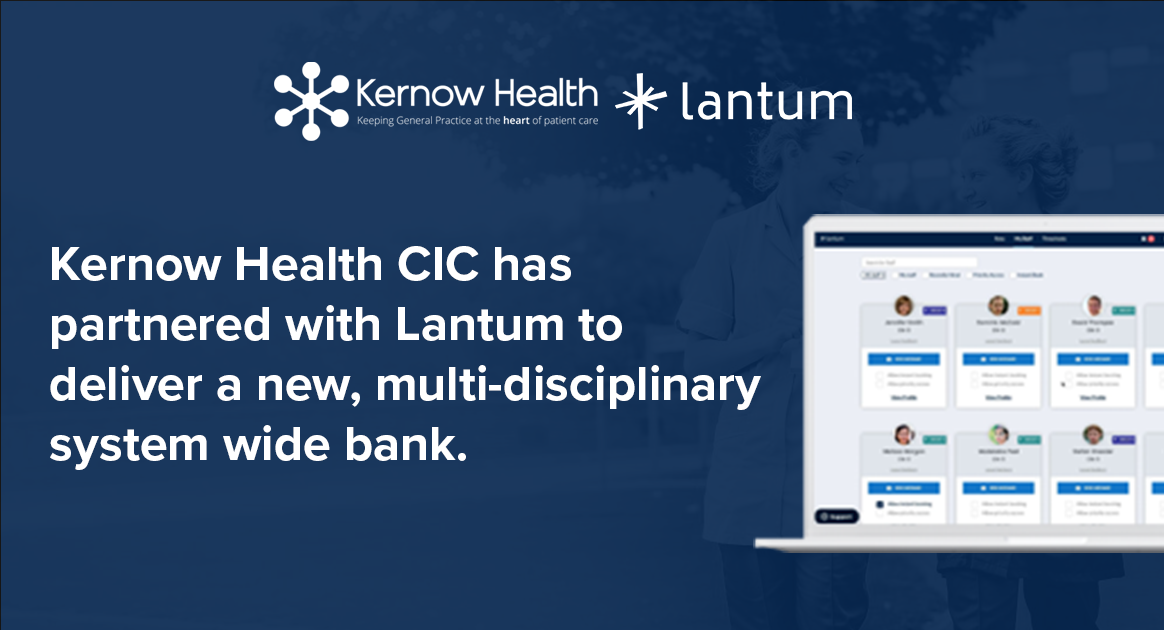 Kernow Health CIC Partners With Lantum To Build System-Wide Staff Bank
We're delighted to announce that Kernow Health CIC (Kernow) has chosen Lantum as their strategic partner to deliver a system-wide, multidisciplinary staff bank.

Having drawn down on the NHSE funding for ICSs to invest in digital staff pools, Kernow decided to continue their standing partnership with Lantum and build upon the excellent work done over the previous two years.

"We have been working with Lantum for the past two years and have found the company to be responsive and up for a challenge, working with us to understand our needs and adapting the product. Our key contact, Simon is a pleasure to work with and has made it his business to understand ours.

"We look forward to continuing our relationship and working together to support our General Practice staff bank to grow."

Laura Wheeler - Director of Integrated Primary Care, Kernow Health CIC


The new multidisciplinary staff bank will be accessible to all 58 Practices and 13 PCNs across Kernow and, as well as being able to book staff from a flexible pool when needed, the new bank will help Kernow:


Build resilience –

By making it easier for practices and services to fill shifts, share resources, and collaborate with other nearby PCNs.



Save money –

By paying just 1% fees to book temporary staff, rather than the high fees charged by traditional recruitment agencies.



Reduce time spent on admin -

By having just one platform to manage all bookings, with time-saving features like automatic shift notifications, consolidated statements and verified clinical governance documents.

They will also have access to our powerful e-rostering tool, which combines rotas and staffing to make it easier to manage multiple sites, staff and shifts.

"I'm delighted to partner with Kernow on a system-wide staff bank, after working together for a number of years - it's fantastic to deepen our relationship and support the whole of Cornwall in a more strategic way!"

Melissa Morris - Founder and CEO, Lantum


Building on the existing staff bank, we have recently supported them with the vaccination sites, run by Cornwall PCNs. We've done this by connecting local Practice Nurses, HCAs, ANPs, GPs and other crucial support staff with vaccination sites in need of extra cover.

Going forward, we'll be working more closely with the PCNs to help them solve workforce challenges at a local level, whilst growing the bank and providing access to all practices across Cornwall.

Staff in Kernow's new, system-wide bank will have access to multiple new opportunities and benefits, including:
Access to more working opportunities – Clinical staff will be able to easily access additional sessional work across the CIC, with notifications about opportunities that match their skills and location.


Quick invoicing and next-day payments – Lantum automatically generates invoices for shifts completed, and until June 2021, all clinicians will be able to enjoy free next-day payments through Rocketpay.


More visibility and control – Staff will be able to use the Lantum app to see and manage their bookings, and to quickly and easily share information such as clinical compliance documents or qualifications with Practice Managers.

"We're excited to be the flexi-pool delivery partner for Kernow CIC, working collaboratively to maximise the impact of a multi-professional staff bank. This will help to improve workforce responsiveness and system resilience - looking forward to seeing the outcomes for the workforce and primary care."

Dr Ishani Patel - Co-Founder, Lantum

To find out more about how Lantum can support your ICS with a digital staff bank, send an email to enquiries@lantum.com, and our team will get back to you.