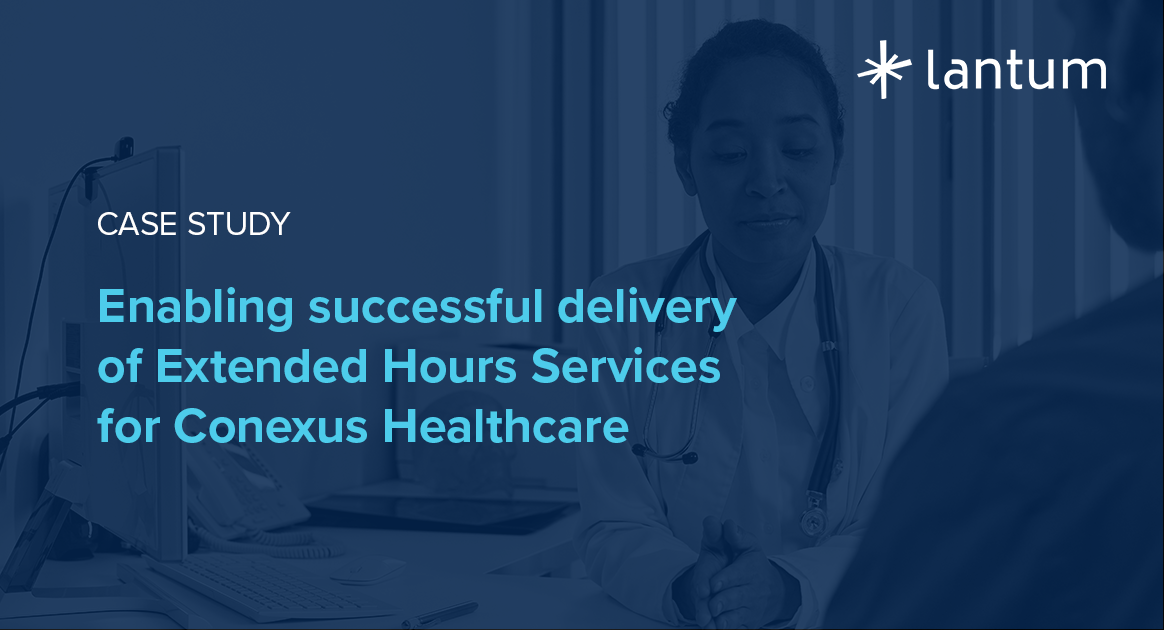 Enabling successful delivery of Extended Hours Services for Conexus Healthcare
Wakefield's General Practice Confederation, Conexus Healthcare, delivers primary care services for 380,000+ patients living in Wakefield and District.
Six months after establishing Wakefield's district-wide extended hours service in 2017, they recognised they had an urgent need to update their e-rostering platform. This was as a consequence of the amount of time being spent filling shifts, communication, and staff satisfaction.
Conexus wanted a workforce management platform that would:
Enable them to achieve better session fill rates from the bank of staff available.
Be easy-to-use and time efficient for both staff and managers.
Enable them to unlock additional resource from existing local healthcare professionals and non-clinical staff in order to sustain existing services, grow capacity, and meet demand reliably.
Smart e-rostering and a digital workforce bank powered by Lantum
Conexus and Lantum have worked together to develop a digital solution that enables Conexus to successfully staff their Extended Access Service. In addition, they now use it to book staff for their NHS Health Checks and Lung Health Checks.
A multidisciplinary digital staff bank to fill more sessions
Conexus now has a bank of both contract and locum staff, across a number of disciplines, enabling higher session fill rates without the need for agencies.


Streamlined two-way communication
Staff and management can communicate with each other through in-platform messaging, significantly reducing the time spent on booking sessions, by both clinicians and administrative staff.


Streamlined administration and payroll
E-pension, e-invoicing, and calendar management have reduced time spent on administrative and payroll tasks.


Smart e-rostering that reduces manual rota management
Conexus builds rotas and advertises opportunities seamlessly online where it is easy to see shift fill for up to four weeks at a time and filter information for reporting and managing shift fill. Any cancellation triggers an immediate reposting of a shift. Meanwhile, the Lantum mobile app allows staff to manage their diaries, sessions and documents on the go.


Robust compliance with a digital passport for staff
Staff members in the digital bank provide all necessary documentation to support compliance, making it easier for them to work across multiple sites and ensuring Conexus is always ready for inspections.
The results
"Through our partnership with Lantum, we've been able to effectively expand the primary care capacity in Wakefield by 189 hours, successfully engaging with 98 local practice staff. This has had enormous benefit to the wider system and patients alike, whether that be through access to urgent GP appointments or a potentially life-saving Lung Health Check."
Antony Nelson, Managing Director, Conexus Healthcare


Using Lantum, Conexus has expanded the primary care capacity in Wakefield by 189 hours per week. This has been done without compromising capacity at local practices or elsewhere in the system.
93% average fill rate for sessions in 2019
8x growth of Conexus' workforce
189 additional hours of capacity per week
6 hours per week saved on workforce management
1,000 patients seen for Lung Health Checks
In addition, staff satisfaction and retention have increased significantly.


"I would certainly recommend Lantum. Both the app and the website are great. You can easily and quickly create invoices, so I no longer need to chase anyone. It has really saved me time and as a busy GP, this is extremely important to me. I can see all available and booked shifts, as well as all my uploaded documents, at the touch of a button."
Dr Borislava Dimitrova, Health Care First practice group (a member practice of Conexus Healthcare)