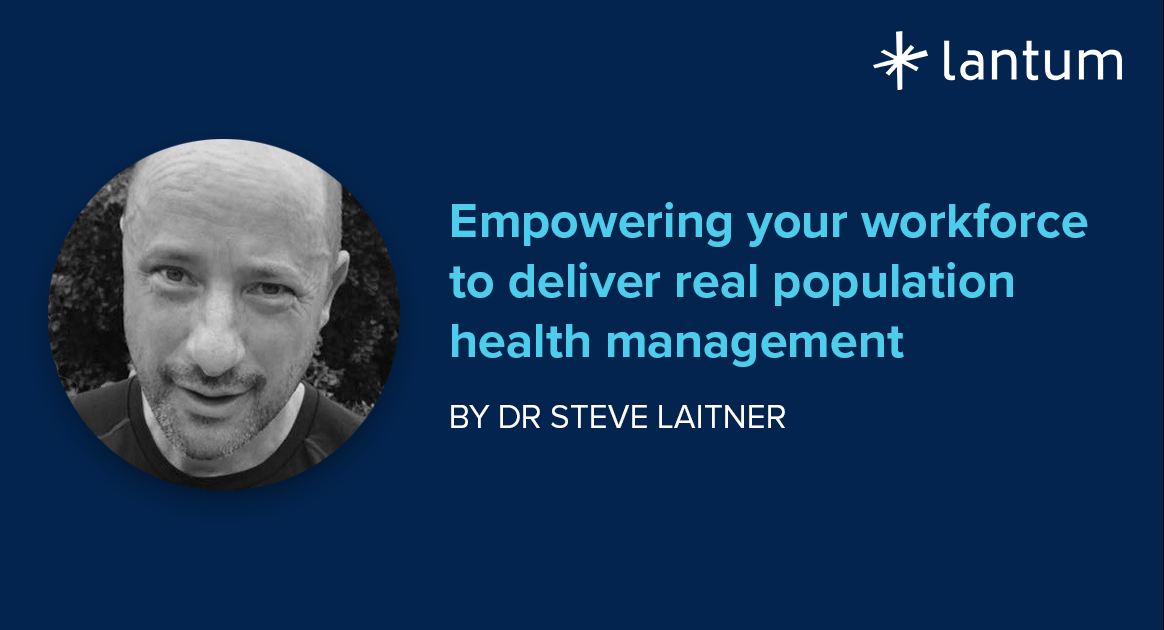 Empowering your workforce to deliver real population health management
Since the release of the NHS long-term plan in 2019, healthcare organisations have been moving towards delivering more joined-up, coordinated care through the establishment of new Integrated Care Systems (ICS) – and perhaps more importantly, place-based Integrated Care Providers (ICP).

The focus of these partnerships is to deliver better care across their individual regions and places. But as we work towards greater collaboration and mobilisation of the workforce, we can also work towards greater flexibility and satisfaction for staff.

I believe that the key to doing this is to adopt a Population Health Management approach.

So, what exactly is a Population Health Management approach, and how does it influence the way ICSs and ICPs build and maintain the workforce?
The four key models of care
The most important thing when taking a Population Health Management approach is to begin by thinking about the needs of the population and people, not the capabilities of your workforce.

So let's start by taking a look at the varied needs of the population that ICSs and ICPs need to cater for.

I like to think about four key models of care that cover the most common health and care needs:
Primary prevention
E.g. vaccination, screening and wellbeing support reducing the risks of future health problems.
Urgent care
Same-day support (by message, phone, video and face-to-face) from GP surgeries, urgent care centres, hot hubs and A&E for people with a new health concern.
Long Term Condition (LTC) care
Ongoing care and support, including secondary prevention, for people with one or more LTCs.
Integrated, highly personalised care of children and young people; working age adults and older people who have complex needs
Complete care (preventative, urgent and ongoing) for people with complex needs such as multiple physical conditions together with mental health problems and/or disability. This group in particular benefit from a high degree of continuity, proactive care and multidisciplinary team (MDT) working.
Ultimately of course, the workforce is the solution to meeting these health and care needs. But rather than having one single team to deliver each of these care models, different MDTs are needed to work in collaboration across the community – "teams within teams" or "teams and teamlets" if you like!

So when we begin to consider who will support these care models, we need to answer the following:

What are the needs (and preferences) being served?
What care functions are required?
What skills and competencies are needed?
How do we find people with those skills and competencies?
How do we support and train people, and enable them to work together most effectively and with a great experience?
Building a workforce to deliver on the population's needs
Once you've identified who you need, it's important to remember that just as the needs and preferences of the population vary, so do the roles, grades, skills, competencies, interests, preferences and availability of the workforce.

The people within these teams may wish to change at some point, or even work in more than one team at one time, according to their interests, skills and preferences.

So how do we enable them to do more of what they like, when they like, where they like - whilst also giving them the support they need to do their job well? How do we liberate the workforce?
Using digital solutions to liberate the workforce
One solution to give your teams the flexibility they need to find the work focus and patterns that suit them – while delivering against all the needs of the population – is to use a digital workforce platform.

Once all staff are visible in one place, and you have a clear understanding of where the work is required across your system, you can start to do some clever matchmaking. It's almost like a dating app for health and care!

So whether you're a GP, nurse, receptionist, clinical health coach, physiotherapist, psychologist or volunteer, and whether you have an interest in urgent care ongoing care or complex care, and whether you have three sessions per week to offer or seven, and whether you want to work in Sheffield, Shrewsbury or from your home in St Albans – you can!


Lantum and population health management
Lantum is a digital workforce management platform that provides end-to-end workforce management. With a staff bank, rota tool and a clinician network all in one place, it delivers Connected Scheduling that transforms how ICSs manage the workforce. Already being used by systems around the country, it enables organisations to bring the system-wide workforce together in one place, gain visibility over staff usage and demand across the system, and deploy staff across organisational boundaries. It also empowers staff by giving them more control and flexibility over their schedules, and more opportunities to find the shifts they want.

To learn more about how Lantum works, as well as how it can improve workforce management across your ICS, get in touch below.