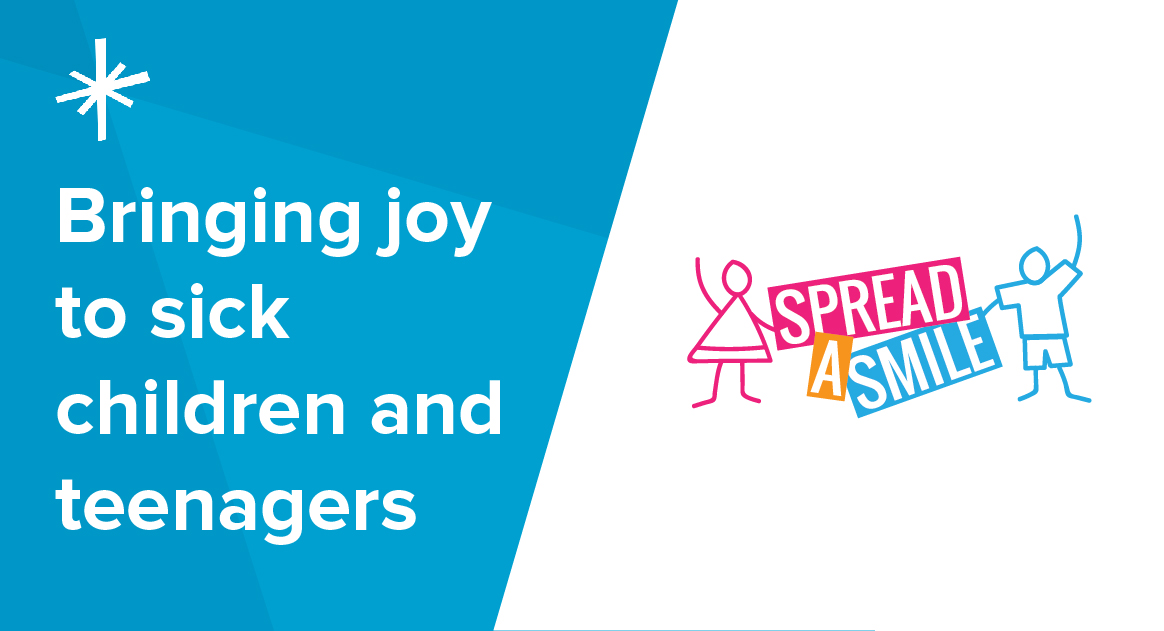 Bringing joy to sick children and teenagers (with a little help from Lantum)
The charity Spread a Smile brightens the days of seriously ill children and teenagers in hospital. We've teamed up with them to help make their amazing work a little easier.
For very sick children and young people in hospital, life becomes incredibly restricted and stressful. Often they're unable to leave their beds for hours or even days at a time and have to undergo intense and gruelling treatments. Imagine then, the joy that a visit from a fairy, a magician, or one of their favourite cartoon characters can bring.
Spread a Smile is a charity that does exactly what its name suggests – putting smiles on the faces of sick children and their families. It was founded by Josephine Segal and Vanessa Crocker in 2013 after seeing the positive impact a magician's visit had on Josephine's 9-year-old nephew Aaron, when he was treated for cancer in Great Ormond Street Hospital.
Now, the charity provides regular entertainment in 8 London hospitals including fairies, magicians, face painters, singers, therapy dogs, children's characters, celebrities, and theatre visits – liaising with staff in the hospitals to ensure every visit is personalised.
Spread a Smile: Who Cares Wins Awards film from Spread a Smile on Vimeo.
Teaming up to help Spread a Smile
As the charity has grown, they've faced a couple of challenges which the team here at Lantum realised we could help with.
One of the trickier aspects of managing a team of entertainers who visit multiple sites across London is making sure they have easy access to their schedules, particularly on the go.
With that in mind, it was quickly clear to us that we could help Spread a Smile by giving them access to Lantum for building their schedules and booking in entertainers. So that's exactly what we've done.
Spread a Smile's entertainer team now uses Lantum to create their schedules and book entertainers for children across the capital, and we couldn't be more thrilled to support them in this way.
"We have had great feedback overall from the entertainers, who love the app in particular," says Lucy Jackson, Spread a Smile's CEO. "We're incredibly grateful for the continued support and Lantum's assistance in streamlining the booking of entertainers and making our job that much easier."
Helping entertainers navigate the medical world
While working with the team to set up their scheduling, we realised there was another way we could support Spread a Smile's brilliant work. They told us that some of their team wanted to understand more about medical terminology – and needed an opportunity to ask questions they felt couldn't be raised in front of the children.
Luckily, our Medical Lead, Dr Katharine Jamieson (KJ) – who's worked as a hospital doctor for 13 years – was on hand to help. She ran a Q+A session which gave the team just the opportunity they needed to ask questions.
"As a doctor, I understand how overwhelming, painful and frightening it can be for children who are in hospital or coping with a long term illness," says KJ. "The Spread a Smile team do a brilliant job bringing some joy and positivity to this experience.
"It was a total privilege to spend some time with them, running a Q+A about some of the medical conditions and terminology they encounter during their work. I look forward to more opportunities to do my bit for such a fantastic cause."
To find out more or donate to Spread a Smile visit https://spreadasmile.org/.