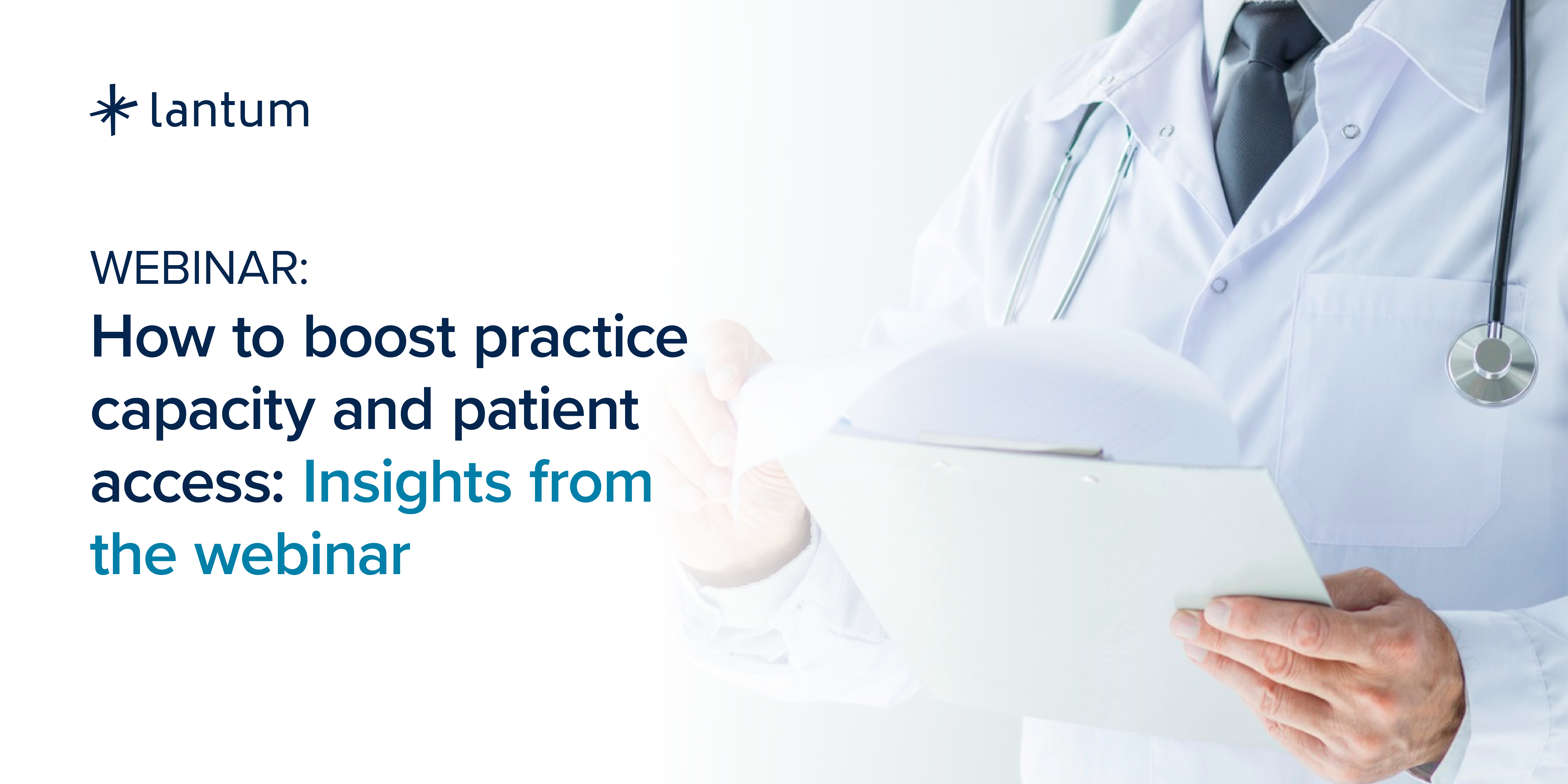 How to Boost Practice Capacity and Access: Insights from the Webinar
How is your PCN or practice approaching new access improvement requirements and the recommendations laid out in the primary care recovery plan?
Knowing what to focus on is the first step in tackling challenges like the morning rush, workforce capacity, and patient access. In a recent webinar, our panellists Tara Humphrey, Dr Zuhaib Keekeebhai, and Dr Ishani Patel shared valuable insights on optimising PCNs based on the requirements for access improvement plans and the primary care recovery plan released in May.
In this roundup, we'll explore three key priorities for PCNs and practices, including:
Building strategies for capacity and access
Maximising digital tools for your practice
Unleashing the power of GP appointment data (GPAD)
To accomplish help accomplish these priorities, we've summarised the panel's thoughts on overcoming common challenges, leveraging business tools, harnessing the potential of the NHS app, collaborating with community pharmacies, and driving appropriate online consultations.
Priority 1: Building strategies for capacity and access
Tara Humphrey emphasised the importance of aligning existing work with national goals. Overall, she pointed out that PCNs should collaborate to reduce workload, devise access strategies, and enhance overall capacity.
Dr Zuhaib Keekeebhai stressed tailoring the recovery plan's recommendations to each practice's unique needs, focusing on empowering patients, modernising general practice, building capacity, and reducing bureaucracy.
Dr Ishani Patel highlighted the need to address the morning rush by optimising staff training, change management, and resource utilisation.
All these strategies look different at each practice – it's up to you to understand the challenges and opportunities in your practice or network and plan accordingly. Don't try to do everything all at once, but focus on initiatives that align with the requirement and have measurable impacts.
Priority 2: Maximising digital tools
Every panellist underscored the significance of utilising telephony data and optimising tools for effective patient triage. Patients need to know how to access extended services in order for it to be effective, and digital tools can help spread news quickly.
Dr Zuhaib Keekeebhai suggested assessing access points and ensuring appropriate patient calls to GPs.
Dr Ishani Patel emphasised promoting digital literacy and accommodating language barriers when implementing triage models.
Priority 3: Unleashing the power of GP appointment data (GPAD)
Understanding and utilising GPAD data took centre stage – and it's a big task for any practice or PCN.
Tara Humphrey recommended appointing individuals within PCNs to analyse the data and engage in constructive conversations to identify areas for improvement.
Dr Zuhaib Keekeebhai stressed the importance of measuring attendance rates, patient satisfaction, and staff experience to ensure successful GPAD implementation.
Dr Ishani Patel underlined the need for proper GPAD configuration in all practices to reap its benefits.
How to ensure your access improvement plan is a success
Driving access with the NHS app
Exploring the full potential of the NHS app emerged as a crucial step in improving access channels and reducing administrative burdens.
Dr Zuhaib Keekeebhai emphasised the need for practices to test the app's limitations, leverage its features to streamline workflows, and reduce time spent on administrative tasks such as prescription management.
Tara Humphrey highlighted the importance of investing time and attention to ensure proper app implementation and patient understanding.
Collaborating with community pharmacies
Collaboration with community pharmacies, though challenging, offers significant benefits.
Building strong relationships, enhancing technological infrastructure, and establishing clear clinical pathways and standard operating procedures are essential for success.
Effective communication, understanding escalation processes, and addressing concerns were emphasised to foster successful collaboration.
Driving appropriate online consultations
Addressing the controversy surrounding online consultations (OC), the speakers stressed the importance of clear messaging.
Dr Zuhaib Keekeebhai highlighted understanding patient preferences, leveraging digital capacity, and using OC for long-term condition monitoring.
Exploring various digital tools and involving digital-first teams were recommended to drive appropriate OC usage.
Final thoughts: Building workforce capacity to improve access
By focusing on capacity and access improvement, optimising business tools, harnessing the potential of the NHS app, collaborating with community pharmacies, and driving appropriate online consultations, PCNs can enhance patient care and streamline healthcare services.
The insights shared in the webinar provide valuable guidance for PCNs aiming to excel in these areas. Let's embrace these strategies and work together to enhance capacity and access within PCNs.
---
Lantum's unique Connected SchedulingTM platform is designed to help healthcare organisations of all sizes understand their existing staffing resources, build centralised rotas quickly, and access extra locum support at a fraction of the cost of an agency.
To find out more about how Lantum can help your PCN or practice build a stronger workforce while also saving time and money, get in touch with our team today.