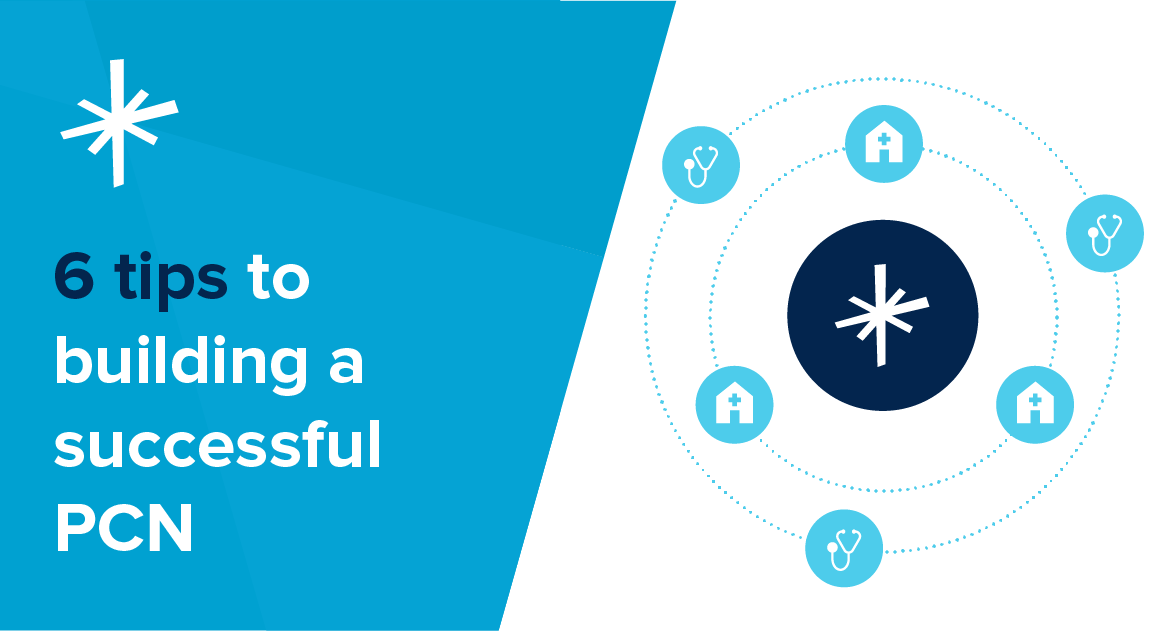 6 tips for building a successful Primary Care Network
All except a handful of GP practices in England have now come together to form Primary Care Networks. In this post, our primary and integrated care team offers up their top tips for making your new PCN a success.
Primary Care Networks (PCNs) are a key building block of the NHS long-term plan, bringing general practices together to work at scale. They're aimed at improving the ability of practices to recruit and retain staff, manage financial and estates pressures, and provide a wider range of services to patients. Most importantly, the intention is that they will 'finally dissolve the historic divide between primary and community health services'.
Our Primary Care team has been working closely with Lantum customers during the run-up to and launch of PCNs – here are their top tips for building a successful network.
1. Create a shared vision
Primary Care Networks have been designed to dissolve boundaries between services. But to do that requires a shared vision – not just between member practices, but with Integrated Care Services, local councils, community healthcare providers, sustainability and transformation partnerships (STPs), and more.
This isn't a straightforward task, but it's going to be a lot easier to get everyone to cooperate with a vision they've had a part in creating, rather than one they hear about later. Communication is key in every direction. People don't like change but if you involve them from the beginning, they will feel part of it.
2. Consider how to optimise your workforce
There are a number of things to think about when planning how to use the shared workforce across your PCN.
The PCN structure opens up opportunities for sharing new and existing staff across practices and other services. Utilising staff in this way can be win-win for both the PCN and the workforce, offering staff greater flexibility, diversity and opportunity to share best practice across the PCN, which can unlock clinical capacity and further drive a culture of collaboration and trust.
Of course, the practicalities of sharing staff are complex. But with the right approach and technology, it's definitely possible – as our partner Our Dorset has found when creating a shared staff pool across their ICS. They've enabled clinical and non-clinical staff to work for multiple organisations using only one contract. (You can read more about it in our case study.)
The additional funding allocated to PCNs also offers the possibility of creating new positions and operational capacity. For example, it's virtually impossible for new PCN Clinical Directors to have the time to do everything that's needed to get the PCN up and running in the limited number of sessions they have available. Recruiting project management support, even if only temporarily, can help get the PCN off the ground and reduce the burden on Clinical Directors.
3. Create benefits for practices
Member practices are the most important stakeholders in a PCN. If they believe in the PCN and its ability to make a difference, then it's much more likely to succeed. Without their support, meaningful change is going to be very difficult to realise.
Demonstrating to practices that working together can create significant benefits for them and their patients needs to be a top priority. For that reason, it's sensible to ensure that the development plan includes not only the work that will deliver benefit for member practices, but also the provision of resources to achieve it.
4. Empower your PCN with (the right) technology
Delivering joined-up working when every organisation involved is using different technology will be practically impossible. So working across multiple practices and wider community services is likely to entail some rejigging of the technology you currently use.
The right technology can help you to address workforce challenges, enable cross-organisational working, and allow the management of multidisciplinary teams.
When finding the right providers there are a number of key considerations to take into account:
What ROI and cost benefits could new technology bring?

Can the provider give examples and data to support any claims they make?

How quickly could the new technology be effective?

How well does the provider understand the current primary care landscape and your needs as a PCN?

Are they committed to interoperability? (i.e. will the technology work with all your other systems?)

How easy is the technology to use and how will the provider help engage staff with any changes?
5. Include some 'quick wins' in your plan
Starting to deliver some tangible results fast can help everyone involved get fully onboard with your PCN.
With that in mind, in your PCN development plan identify some 'quick wins' as part of what you want to deliver. These could be things already happening in some parts of the PCN which you can quickly expand, for example.
6. Get the right support and advice
There are numerous sources of support for creating a successful PCN. These include other organisations – such as your GP Federation – but may also involve reaching out to peers. Some of the best insight we've had has come from attending conferences like NHS Expo and Best Practice hearing from Clinical Directors at some of the more developed PCNs.
Make sure you put time aside to network, attend events, and seek advice. Not only will this help you identify potential successful ways of working, but it should also help you avoid any pitfalls, by learning from others' mistakes.
One might think a successful PCN relies solely on its Clinical Director for accountability, however the Clinical Director's success relies on active contributions and positive engagement from membership practice leads. CDs have a lot to do in very little time and might wish to seek mentoring or coaching on a longer term basis for external impartial support.
Simplify your workforce management
Lantum can help save your PCN time and money by helping you:
Fill your available sessions

- enabling you to maintain safe staffing levels, meet patient needs and improve staff morale

Deliver services at scale

- ensuring it's possible to create shared workforces and meet requirements for additional services such as extended access

Reduce manual rota management and compliance processes

- saving precious time for administrative staff and reducing costly agency fees
Empower staff to work flexibly - creating a bank of both salaried and locum staff across clinical and non-clinical roles