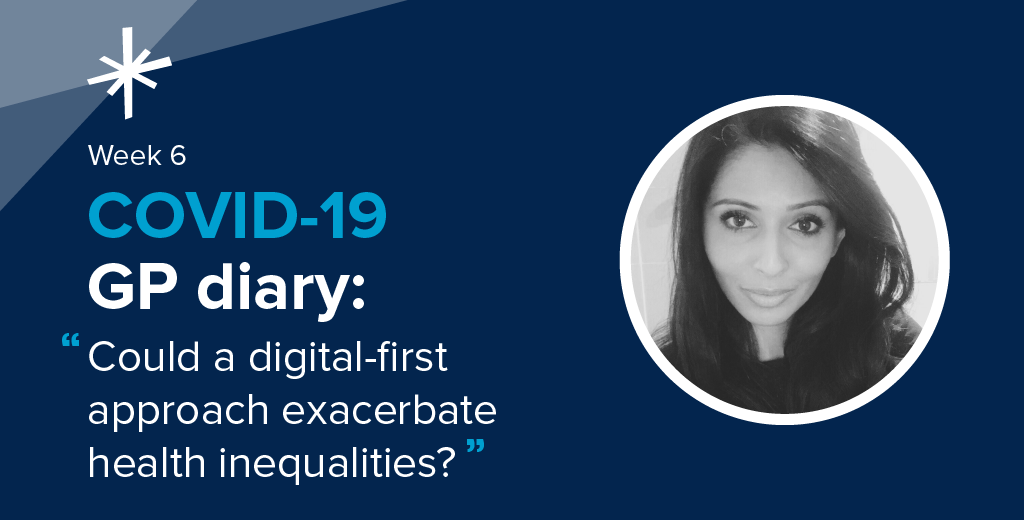 COVID-19 GP diary: Could a digital-first approach exacerbate health inequalities?
Our co-founder Dr Ishani Patel is a GP based in north-west London and the eHub lead for four primary care networks. In this series of weekly posts, she explains how she and her colleagues are managing in the face of the coronavirus pandemic.
This week Matt Hancock, Secretary of State for Health and Social Care, announced there's now a contact tracing app trial taking place on the Isle of Wight.
To make sure digital solutions to healthcare problems are successful, it's vital to consider overall digital literacy in our patients, which is closely linked to societal inequalities and lack of access to WiFi and technology. There's also the issue of language barriers – certainly something that could be a problem for our practice, which has an incredibly multicultural patient population. And let's not forget that the app can't be used by children, who are also affected by the disease.
Adoption is another concern. People might understand the need for it now, but if they don't see the ongoing relevance in the months to come they could switch off notifications or delete the app entirely. When, in fact, the app is supposed to give a sustained view of the situation over time.
Of course, these concerns aren't just applicable to this app. As services in primary care move swiftly to a digital-first model, there's a real risk that we could exacerbate health inequalities if we don't seriously consider how to reach people with limited understanding of, or access to, technology. We're all going to need to be incredibly mindful of that.
Understanding 'apptimism'
On the subject of apps, I took part in an RCGP webinar this week, hosted by Pritesh Mistry and colleagues, about digital therapeutics. The meeting touched on the fast tracking of online consultation procurement in light of COVID-19 and highlighted that we need to make sure we don't also fast track digital therapeutics without proper robust evaluation and outcomes data.
The presenters introduced me to the term 'apptimism' – which they used to describe the surge in public popularity of apps during lockdown. In the face of this fast paced digitisation, the presenters emphasised that we're going to need to be cautious about the vast number of apps that market themselves as 'treatments'. We can't presume that a digital therapeutic is safe, we need to hold it up to the same scrutiny we would any treatment for our patients.
COVID-19 reimbursement is still a waiting game
Two weeks ago, I wrote that we were waiting for the government to announce a reimbursement scheme. The scheme will help practices cope with the financial demand of additional locum cover required due to COVID-19. However, currently we're still waiting for the details.
This is top of mind for me for a couple of reasons. First, with my GP hat on, I'm keen to get the information so we can consider our practice's financial position and understand what we'll need to do to claim for reimbursement. I'm sure practices across the country are feeling the same way.
Second, with my Lantum hat on, I want to be able to support our customers with ensuring they can easily claim for reimbursement where it's due. Last week, I described how we've developed new COVID-19 specific features for our product and we're hoping to have exciting news of a larger release this week. The new features have been developed to help practices fill more sessions and make accurate claims for COVID-19 reimbursement.
The voice of the locum mustn't be forgotten
Because of the reimbursement issues, I've been thinking about locums a lot this week and I'm concerned they may be the forgotten voice in what's happening right now. People who exclusively locum may have seen a considerable reduction in demand for their services, and given what an important part of our sector they are, that should be a concern for all of us.
Are more locums turning towards out of hours and urgent care centre work? Do they have access to book sessions at hot and cold hubs? It's really important that we include them in the primary care response. So as we settle into the new normal, we need to make sure they're integrated really well.
We've been in touch with our top locum users on Lantum to ask them to share their experiences so far and we've had a huge response. I hope we'll be able to bring their voices to a wider audience here on the blog too.
Keeping track of patients with treatments on hold
This past week, we've had a lot of focus on the people who've had their treatments or their test request investigations put on hold. How do we safely make sure that we don't lose track of these people, for a start? And if hospitals are discharging patients mid-treatment, or pre-completion of treatment, we also need to build on existing safety netting systems to make sure that we don't lose them.
Luckily in past roles, I was part of a team that created an electronic safety netting system for practices so we are building on that, as it's going to be incredibly important in the weeks to come.
Looking forward to PCN recruitment
Primary Care Networks are still going through a recruitment process to find first contact physiotherapists, paramedics, and a whole range of other roles. Something we're going to be working on in the next few weeks is what this will look like now we're working to a digital-first model.
For example, we hope we'll be able to arrange it so that all joint pain patients and musculoskeletal injury patients can go straight to the first contact physiotherapist to process their online consultation.
Making sure these new roles integrate in the new digital-first system is going to be paramount to success, given that COVID-19 precautions are going to have to be part of our way of working for a long time to come.