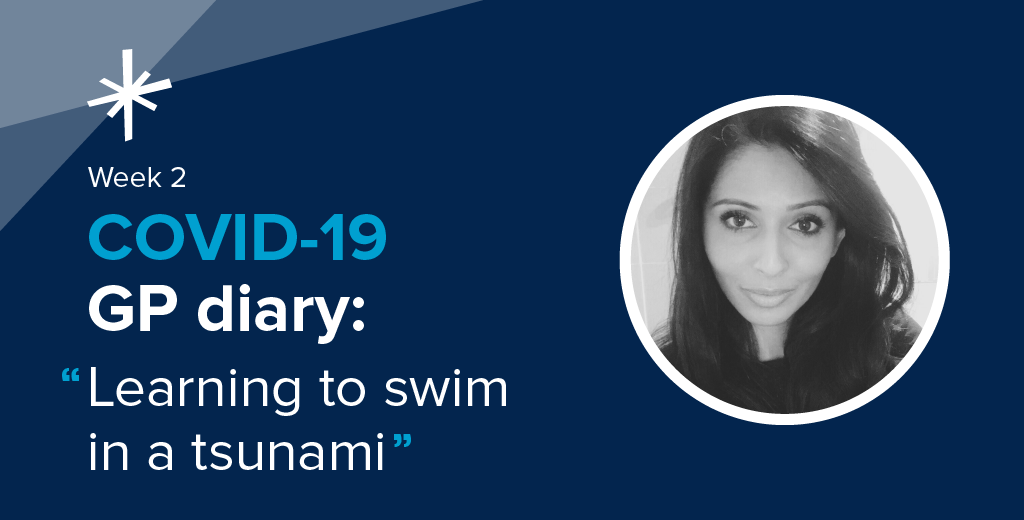 COVID-19 GP diary: "Learning to swim in a tsunami"
Our co-founder Dr Ishani Patel is a GP based in north-west London and the eHub lead for four primary care networks. In this series of weekly posts, she explains how she and her colleagues are managing in the face of the coronavirus pandemic.
As I'm writing this, our Prime Minister Boris Johnson is in intensive care with COVID-19. As the news broke on Monday, we were holding a coronavirus webinar that brought together ICU colleagues, palliative care consultants, and elderly care consultants, along with 56 GPs across Brent.
We spoke about how we can support our patients at home, hearing from our hospital frontline colleagues about their experiences and sharing the latest data from our local hospital, Northwick Park. It gave us more insight into how we can support them.
One of the speakers described the current situation for us as, "learning to swim during a tsunami." I can't think of a better comparison.
The biggest challenges this week
Last week I wrote that we were having to have some difficult conversations with patients. This week the numbers of those conversations have only increased. Conversations about receiving palliative care at home, conversations about who is likely to have good chances of being ventilated. Talking to relatives who can't even say goodbye to their loved ones. Yesterday, I was crying and praying with my patients. The only word I can use to describe this situation is horrendous.
We're seeing people now who are in week two or week three of their illness, which means they're either recovering or they're becoming seriously unwell. The death rate is climbing and we're losing patients, colleagues, friends, and relatives. I'm seeing younger patients pass away too. People in their fifties, with no pre-existing conditions – and that's been really tough.
As well as being incredibly difficult on a personal and professional level for me, I'm acutely aware of how this is affecting our team. There's a lot of talk about NHS staff being heroes. But it doesn't stop us struggling.
It's going to be so important to look after the mental health of colleagues. Staff are scared – both for themselves and their loved ones. And they're going to be doing a lot of advanced care planning and end of life care discussions in a very compressed time period. Normally you might have one of these kinds of conversations every few months, but now it is almost daily.

A colleague shared an image with me (see below) which I think is helpful for us all to think about in this crisis. That being said, I feel it's also important to recognise that we can't always be strong. We have to acknowledge our fears and concerns – and those of others. I'm conscious that we need to give everyone the time and space to be vulnerable and share what they're going through.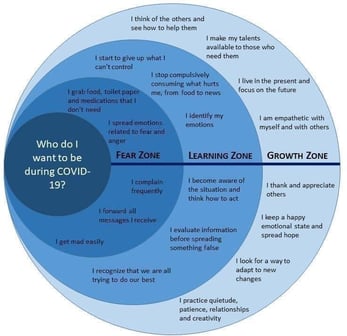 Positive moments
Despite the incredibly tough circumstances, there has been cause for hope this week too.
We had the idea to ask local schools to help us by providing goggles – and the response was amazing, we received hundreds and shared them across north-west London. We also heard that the fashion label Burberry was making gowns for patients so a friend has asked them if they could make long-sleeved washable gowns for doctors too. In addition, we received another delivery of PPE and I hope there'll be more to come.
I started working in the 'hot hubs' this week and I've been very impressed at the level of safety that's been arranged for staff. It's clear patients really appreciate the service. What's more, in our clinic we've got drugs and oxygen available, so we can give patients medicine there and then – reducing the need to travel to the pharmacy to collect medicines. I'll be doing weekend shifts at the hot hubs from now on.
Meanwhile, we've been putting systems in place to ensure that we're monitoring our frailer patients. As more and more data is becoming available, it's clear that when the illness reaches a tipping point at around day 10-12, there can be a very rapid decline. We want to keep a close eye on our patients, so we're phoning them daily.
In addition, as part of this monitoring, we're also doing what we're calling a 'drive by' service to monitor patients' oxygen levels – literally getting in the car and dropping round an oxygen saturations monitor. And we're starting an outdoor 'garage' clinic for COVID-19 patients who would find it easier to come to the practice rather than the hot hub – as we are conscious of enforcing social distancing and minimising patient travel. (Thankfully the weather has made this possible.)
On a personal level, my work with Lantum, has also helped me to feel more positive. It's allowing me to contribute to the national effort, as well as the local one. I feel really proud to be part of the projects we're currently working on – helping federations and PCNs build out their existing staff banks to mobilise their COVID-19 response teams.
I was also really pleased to be able to do an 'on-the-fly' webinar for colleagues across the country who are progressing their 'digital first' transformation. I talked them through our setup here and tried to help them troubleshoot.
Finally, in an effort to look after staff mental wellbeing, I'm setting up some timeout for all the staff, so they can sit in the garden on their own and just have time to be still. As things progress, I believe this time will be invaluable in helping staff get through the long days.
What's to come?
The big thing for us this week is setting up our direct bookable 111 appointment slots and making clear to patients that we're open over the Easter weekend. This will be in partnership with community pharmacies, who are front liners in primary care and often go under-recognised. We really appreciate our community pharmacy teams.
Opening over the Easter weekend will ensure that patients don't have to wait to be seen – particularly given the speed with which the illness can take a turn for the worse. We are paying close attention to our 'shielded' patients and working up home visiting 'teamlets' for COVID-19 after an admission, as well as novel approaches to continue the delivery of care to those with long-term conditions.