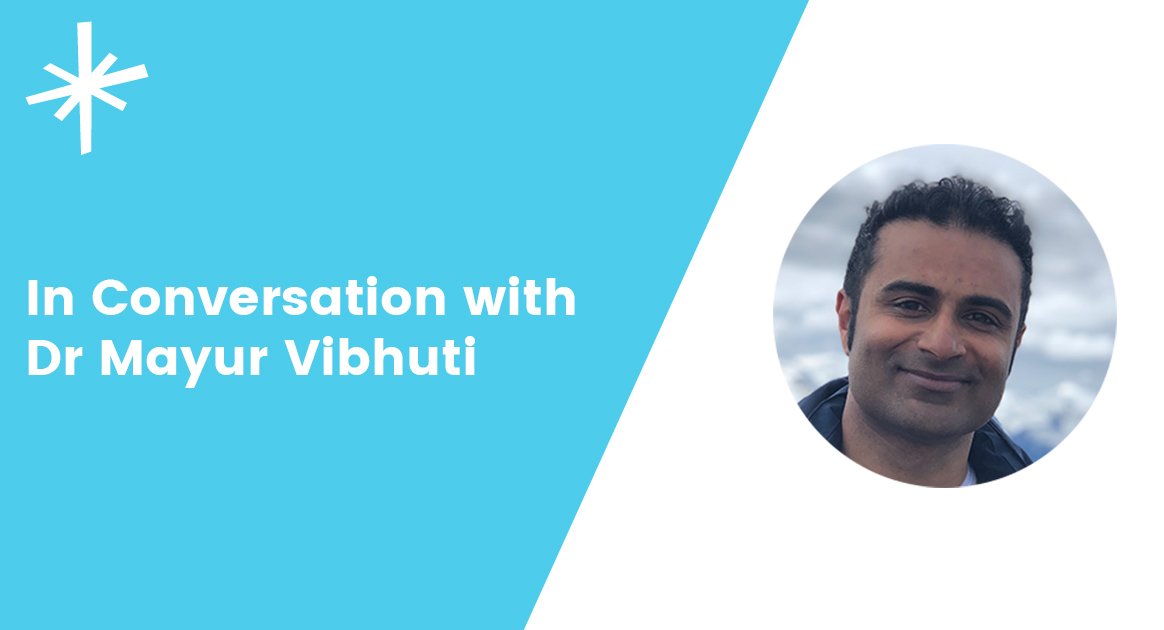 Developing Multi-Professional Leadership in Primary Care
Through the work we do within the healthcare landscape, we have the opportunity to meet a range of incredible healthcare professionals.

One group of professionals we work closely with are the jobbing GP partners, who are taking on transformation roles - not mandated by downward pressures or CCG initiatives, but who take it upon themselves with a belief and willingness to support colleagues to create a sustainable general practice.

Dr Mayur Vibhuti is one of these portfolio partners. He developed, launched and delivered an 8-month Medway Multi-Professional Leadership Programme, in partnership with Canterbury Christchurch University, where he has been awarded an honorary visiting readership.

From A&E doctor to clinical entrepreneur
Currently working as a GP partner and looking after over 5,800 patients in a socially deprived part of Medway, Mayur's career path includes the following to date:

A&E doctor in the Central Coast, Australia.
GP trainee in a multi-professional proactive training practice, covering 12,000 patients.
Training programme director for the Medway VTS Training Scheme
Regional medical director and director of medical education for Malling Health/IMH, heading up their successful International GP recruiting programme and developing the first nationally available I&R preparation course.
First GP to host and train a Physician Associate student in Kent and integrate the role for workforce sustainability.
Medway CCG Clinical Advisor for Primary care transformation(present)
North Kent Training Hub Clinical Advisor for GP recruitment and retention (present)
NHS Clinical entrepreneur (present) under Professor Tony Young's stewardship, learning about innovation, entre/intrapreneurship learning transferable skills to help innovate in the NHS.
Prior to creating the Medway Multi-Professional Leadership Programme, Mayur attended Keele University and co-designed a bespoke leadership programme in primary care for 10 clinical and medical directors. This became the basis for designing the Medway multi-professional leadership programme.


Primary care leadership in Medway
Primary care leadership and education has been inherent to all Mayur's roles.

Medway CCG comprises of 49 GP Practices, serving a community of over 295,000. Historically, Medway has a strong naval and military history, however, when Chatham Dockyard closed down in the mid 1980s, there was mass unemployment across Medway. During this time GP availability was scarce and many of the practices set up were GP single-handers or two partner practices.

Mayur joined Medway CCG in 2018 with an advisory role of primary care transformation. He recognised, that GP recruitment and transformation of services in Medway depended on creating a new environment where Medway could be a place that all frontline clinicians could be empowered by, first understanding what the problems were, and then trying to work collaboratively to solve these issues from the ground up. In a complex system like primary care a top down approach was not going to work.
As a result, he decided to create a multi-professional leadership programme that would enable and empower frontline workers in general practice to make effective transformational change happen.

Developing the primary care leadership programme
Working with Peter Millburn and an inspirational wider academic team from the Institute of Medical Sciences at Canterbury Christ Church, they designed an innovative programme to facilitate learning about change management and leadership, providing space for regular peer support, networking and resilience. Mayur acknowledged that certifications and dissertation assignments would be an additional burden to GP shoulders and a barrier to enrolment. This project was then pitched to Tracy Rouse, Director of Primary Care, as a key enabler for their primary care transformation strategy.

The programme's foundation is creating headspace and peer support through a peer consulting model. It highlights the existing political landscape and signposts the direction of travel as cited in the GPFV and gives clinicians and managers the opportunity to challenge and disrupt traditional primary care. Each delegate is encouraged to be purposefully and positively disruptive.

The programme facilitated an environment where delegates gained greater self-awareness of themselves and their effect on others. Realising that transformation starts with oneself and supplied with practical leadership tools with continuous peer support they were able to transform their current ways of thinking based on their past experiences and move towards the art of the possible. This culminated in a collaborative leadership project pitched to the CCG board at the end of the course.


How the primary care leadership programme works
The programme consists of a two-day introduction, followed by 6 days over 7 months. In total the course spans 8 months.

At the end, each of the fellows have the opportunity to pitch a collaborative project that aligned with the FYFV to stakeholders and the CCG governing body for funding to implement the proposals.

Examples from the first wave of primary care leaders to complete the programme include:
a telephone hub across 4 sites – serving 42,000 patients to improve patient access, care navigation and patient experience.
reducing non-attendance using Quality Improvement methodology.

Impact of the primary care leadership programme
Canterbury Christ Church university conducted a formal impact evaluation of the programme. In this context 'Impact' is used to mean making a difference as a leader to one's own practice, general practice, team, patient experience and health outcomes.

It also involves showing the impact of leadership activity and behaviours.

The positive impact of the programme includes:
the opportunity to create space away from the 'shop floor' to facilitate learning of skills to practically enable leadership, reflection and idea co-creation.
regular forum for networking and building resilience through peer mentorship.
the power to stimulate, challenge and disrupt traditional ways of providing care to promote new collaborative ways of working across boundaries.
the ability to formulate and deliver a service improvement project, with measured impact assessment.
the chance to obtain an academic qualification for those interested.

The challenge with implementation
From the CCG's perspective, it has been challenging to transform primary care.

Having a large number of smaller GP practices with practice-centred priorities (understandably), Mayur recognises workforce development initiatives must be inclusive of all types of staff, regardless of rank.

Engaging and diversifying the whole team is necessary to evolve team-based practice care, reinforce resilience and sustainability and develop a shared purpose and vision.

Despite this challenge, the effects of the programme have been wholeheartedly positive, both on at an individual and team level.

Effect on individuals
For those who have already completed the programme, their learnings have empowered them to:
be brave, risk taking and persevering
build relationships, trust and a positive environment towards a shared purpose
value and support team members
develop an open, honest and transparent culture
inspire teams to work together
From the first wave, more salaried GPs have become interested in becoming partners and an assistant PM has been promoted to Practice Manager. Wave 2 in Medway will include pharmacists and PAs.

Effect on teams
The structure within the teams has evolved to become more inclusive, organised and non-hierarchical. There is more focus on shared ownership and making the most of the strengths of the team. Overall, teams are stable, happy and feel valued.
Staff experience good morale, growth and success and good health.
Workforce retention has improved, and there are less complaints from staff.
Staff are delivering aims and objectives, and demonstrating ongoing productivity, innovation and adaptability.
There has been continued team growth and development through participation in:
peer review and insight
further education
learning from each other and learning from mistakes

What's next for Mayur and Medway
On the premise of this success, Kent and Medway STP are now reviewing the programme as part of their leadership, culture and sustainability workforce stream as to how best to support this as a recurrent programme and looking to scale across each of its 8 CCGs.

Mayur's vision is to spread this across the disciplines of social care, mental health and community care to truly enable system wide transformational change. He is also currently working on developing a primary care-based innovation hub in order to try to accelerate the pace of change. Watch this space!