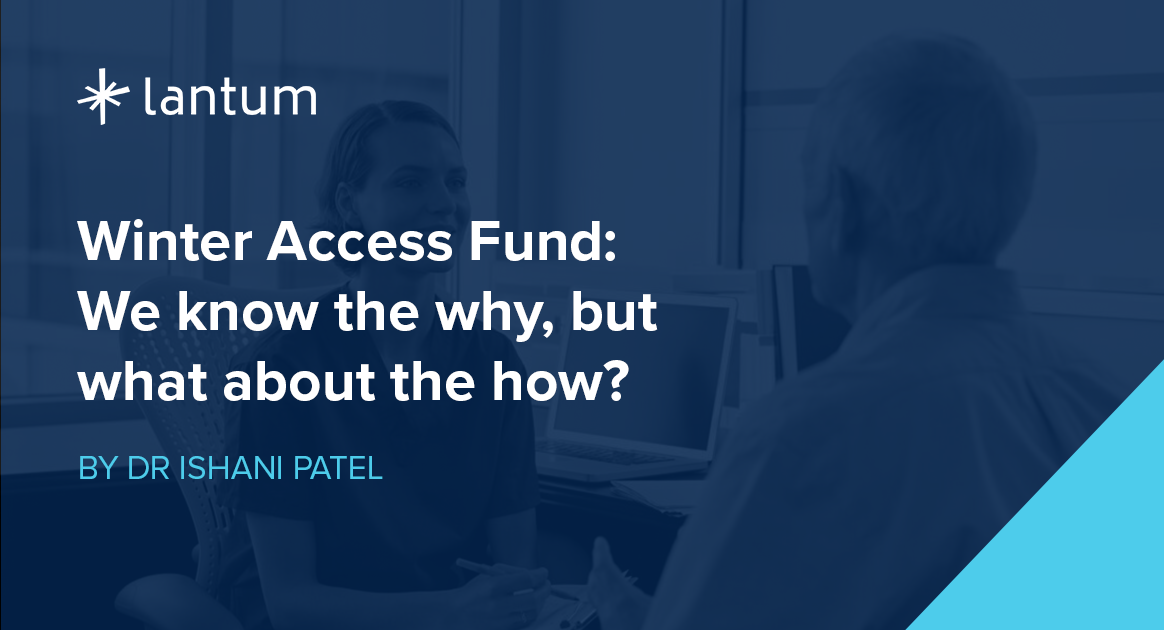 Winter Access Fund: We know the why, but what about the how?
5 months since NHS England introduced "Our plan for improving access for patients and supporting general practice", general practice, primary care networks (PCNs), community pharmacy and secondary care are continuing to report outcomes whilst iterating and developing new services, models and pathways to achieve the ambition of the plan.

Since October 2021 this initiative has served as a catalyst and vehicle for sectors within Integrated Care Systems (ICSs) to blend together and operate as a collective or combined unit. The aims are to:
Increase and optimise capacity
Address variation
Encourage good practice
Within this plan features the Winter Access Fund (WAF) of £250m to help patients with urgent care needs get seen when they need to, on the same day, taking account of their preferences, instead of going to hospital.

The two main uses of the Winter Access Fund
The first key use of WAF is to drive improved access to urgent, same-day primary care, ideally from patients' own general practice service, by increasing capacity and GP appointment numbers achieved at practice or PCN level, or in combination.

Examples of how this can be achieved include:
Funding more sessions from existing staff
Making full use of the digital locum pool framework
Reimbursable at maximum rates
Expanding extended hours capacity, including for example any contingency planning for bank holiday working
Extra administrative staff at PCN, federation or practice level
Employ other physicians such as retired geriatricians who are unable to join the GP Performers List
The second use of WAF is to increase the resilience of the NHS urgent care system during winter. Some examples of how this can be achieved include:
Expanding same-day urgent care capacity, through other services in any primary and community settings
Setting up primary care hubs, including respiratory hubs or 111 CAS redirection hubs
Alongside the two core uses of WAF, the plan includes additional initiatives, including:
Cloud-based telephony, providing better demand management data for practices and PCNs
Use of the Community Pharmacist Consultation Service (CPCS) to help alleviate pressure on GP appointments
Optimising involvement in the COVID vaccination campaign
Re-phasing PCN service specifications and the extended access transfer

Commonly asked questions
I've attended many PCN and System-level meetings where colleagues across the board all agree with this ambition and ethos. However, the topic of workforce and infrastructure from a digital perspective to power new services, and clinical governance and safety are common themes that are debated repeatedly.
Questions that keep coming up include:
Who is going to do this work when we are already operating at full capacity?
What are the digital enablers?
How can I find clinicians at relatively short notice?
We have struggled to recruit to some of our ARRS positions - why can't we use this money to employ other staff types for the PCN
How do we build on top of what we are already offering, especially when we have a significant proportion of staff self-isolating?

These are fair and important questions when it comes to sustainability of novel WAF services. I would like to hear your thoughts on this!


The Winter Access Fund and Lantum
Working as a digital enabler with over 18 ICSs now, Lantum is helping to address some of these questions, and support with delivery of the Winter Access Fund by:
Building a PCN or system-wide staff bank inclusive of GPs, nurses, administrators and ARRS
Reducing the burden of finding and securing clinician to cover WAF shifts, in part through the intuitive features the platform offers, including direct messaging, instant book, and priority access to shifts
Enabling organisations to provider detail on shift requirements and expectations through session description fields, allowing a broad range of shifts to be posted to the staff bank
Providing smoother and more efficient rota management through access to Connected Scheduling™, our total workforce management platform
Offering Rocketpay, our next-day payment service to GPs, which can quadruple shift fill rates

We have also been approached by existing extended access hubs to bolt on WAF services, such as online consultation hubs and other novel services.

How Birmingham and Solihull launched a multidisciplinary staff bank in 6 weeks
If you'd like to see how we achieved this with Birmingham and Solihull ICS, you can watch a recent webinar we ran with them here.

If you'd like to have a discussion about how Lantum can support you to deliver your Winter Access Fund plan, email enquiries@lantum.com.