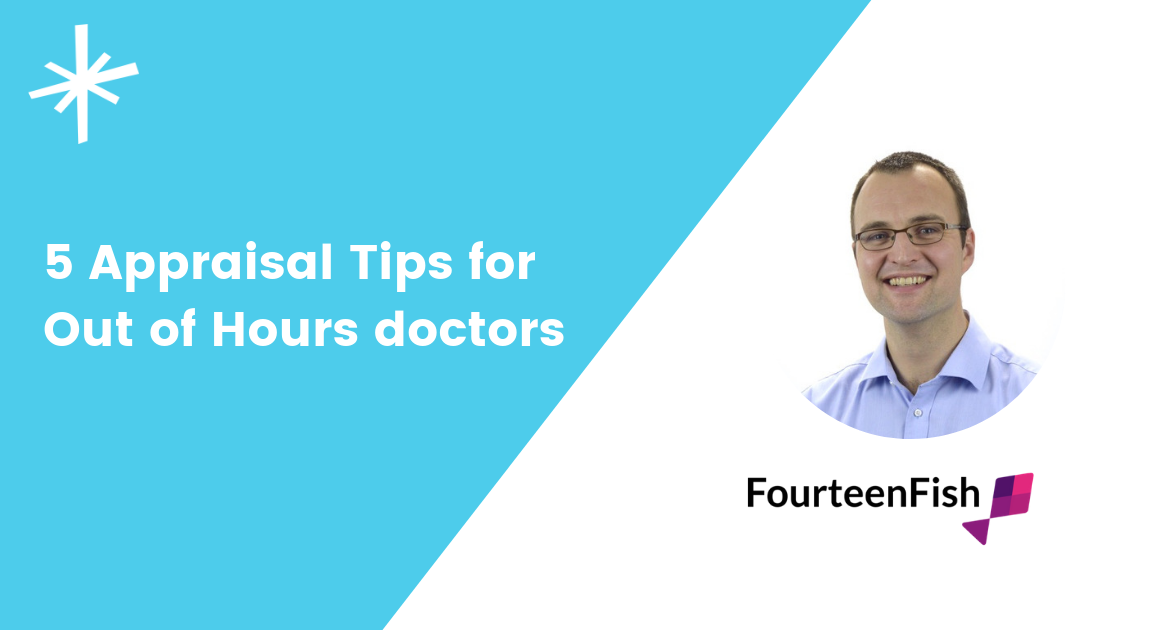 5 Appraisal Tips for Out of Hours Doctors
FourteenFish provide GP-friendly learning and appraisal tools that make CPD recording effortless and the whole appraisal process more enjoyable. It's free to try out - you only pay when you're ready to submit your appraisal to your appraiser.
Duncan Walling, Founder of FourteenFish and a GP himself, spoke to us about how appraisals differ for those working in Urgent Care or Out of Hours (OOH).
When it comes to appraisals, GPs who work in Out of Hours may have challenges when getting supporting information for revalidation and appraisal. Here are Duncan's top tips and the areas to be aware of.
1. Plan ahead for patient feedback
GPs who don't see patients in clinics can't have physical feedback sheets handed out to them by receptionists to complete. If you're doing home visits, you need to think ahead and remember to supply feedback sheets after every session.
If you're doing online or telephone clinics, your feedback forms might have to be sent to the patient separately from the clinic and you always have the risk that they just won't bother completing it.
To increase your chances, we recommend you prepare a cover letter explaining why you need it and if you make it as easy as possible for the patient by supplying a stamped addressed envelope, you're likely to get to the recommended 34 replies quicker.
2. Get feedback from a range of colleagues
Getting colleague feedback can also be difficult to obtain when you don't have a regular place of work. Remember, you can ask a variety of colleagues, both clinical and non-clinical, and to improve return rates we would recommend asking everyone you do work with if they would be happy to feedback, even if you don't work with them often.
Explain that even though you don't work with them regularly, it doesn't mean that they can't complete the feedback. There will be options for them if they feel unable to comment on certain areas of your practice.
3. Benchmark your feedback
For colleague and patient feedback, it is worth using a recognised tool that meets GMC guidelines. It is also worth seeing if you can find a tool where you are benchmarked, not just against other GPs, but against GPs who have a similar working role.
The benchmarking process is an imperfect method to compare your results against peers, as it doesn't take things like demographics into account.
Locums are known to score less well on both patient and colleague feedback, as a result of not having the longstanding relationship that goes with more regular GP work. If the benchmarking includes the ability to match against other locums or GPs who do Out of Hours, then it is a better comparison point.
4. Consider how you reflect on significant events
As GPs, we are used to meeting and discussing significant events as incidents where there was a near-miss or something we felt could have been done better.
However, for the purposes of revalidation and appraisal, the GMC and the RCGP has clarified that significant events refers specifically to an incident where significant harm could have or did come to a patient/s and that you as the clinician were directly involved. Most GPs will not have a serious untoward incident to report and you will make a declaration of this in your appraisal. If you have been, then you must mention and reflect on these.
If you are involved in a significant event and the employing organisation invites you to attend, then it is advisable and useful to do so. When you are not invited to attend, it is still acceptable to discuss these in a learning group or even at the appraisal meeting.
5. Include at least 1 Quality Improvement Activity
There is no specified number of Quality Improvement Activities (QIAs) now required in appraisal, though it is probably good practice to include at least one annually.
Some examples of QIAs are:
Case-based discussions

Significant event reviews (those not meeting the definition above)

An audit

Review of notes or prescribing habits with a colleague or small group.
How can I find out more?
Further reading:
BMA appraisal tips for sessional GPs
Wessex LMCs locum and appraisal guide
Fish TV episode for locum doctors on appraisal tips
RCGP revalidation page (the Mythbusters is especially useful)



FourteenFish provide an innovative, easy-to-use Appraisal Toolkit along with a free Learning Diary. Their passion is building the best tools in the world for doctors, nurses, and medical organisations and they pride themselves on providing excellent support for our users.
It's free to register - check it out!