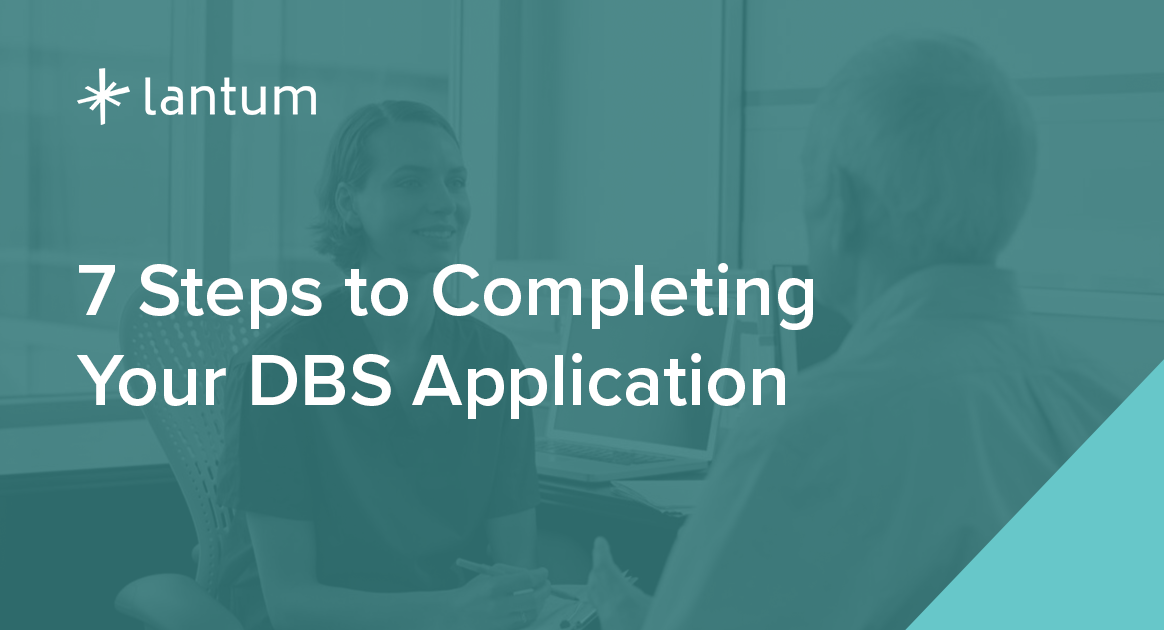 7 Steps to Completing Your DBS Application
At Lantum, our mission is to improve working life for healthcare workers across the NHS. Whether that's by connecting clinicians with available sessions or simplifying their paperwork, we're here to help.
To make life easier for you, we are now offering free Disclosure and Barring Service (DBS) checks for GPs who work through Lantum.
We've also created this seven-step guide that walks you through the process of filling out your DBS form quickly and without errors to meet NHS requirements.
Before you get started, make sure you have everything you need. To help the application process go smoothly, gather:
Identification documents, including your driver's licence, passport, work visa, or other forms of ID
A list of all the names you've been known by since age ten and relevant dates
A full five-year address history
How to fill out your DBS form
We recommend completing your DBS application in sequence so you don't skip any important information. As you fill out the form you can go back to previous sections, or save and continue to the next. Save as you go so you can come back later and finish completing your application.
You'll receive an email from Disclosure Services with a link to the application form. Once in the form, you'll see information about what type of DBS check you're applying for, along with the organisation that sent it to you. If any of this information is incorrect, please contact clinical.governance@lantum.com.
1. Applicant details
Your first and last name should be pre-populated in the form. Follow the prompts to enter the rest of your information, including:
Title
Middle name
Date of birth
Gender
2. Contact information
Your email address should also be pre-populated in the form. Double-check that it's correct.
Enter your phone number and select the best time to reach you.
3. Birth details
Enter your:
Nationality
Town/city and country of birth
4. Address history
Enter your current address.
You must enter a full five-year history of your past addresses with no gaps. If there are gaps, you'll see an error message that reads "There are problems within the address history — Please enter a full five-year address history."
Use the postal code lookup for UK addresses.
5. Previous names
List all the names you've been known by since age ten, including your maiden name.
If you changed your name after you got married, include both your forename and your maiden name — even if your forename did not change.
Save the name, then save and continue to the next section.
6. Evidence
Answer yes or no to the question "Are you an EEA or Swiss National?"
Provide identity documents that:
Include your current name, unless it's a birth certificate
List your current address on at least one piece of ID
Include your date of birth on at least one piece of ID
All documents must be originals, not photocopies or documents generated online.
Get more information about the different types of identity documents you can use in a DBS check.
7. Certificate delivery
For basic DBS checks, you can choose whether you'd like to receive a paper copy of your DBS certificate.
If you'd like a paper copy, choose whether to send it to your current address or another address. If you're sending it to another address, enter it now.
If you don't choose to receive a paper copy of your Basic DBS certificate now, you can't get a paper copy at a later date.
Finishing up
Proceed to the application preview and review all your information to make sure it's correct. If everything looks accurate, read and agree to the declarations at the bottom of the page.
Click "Submit" to send in your application.
You'll receive an email once your application has been successfully submitted, along with instructions for verifying your ID or more information if your application is rejected.
How long does a DBS check take?
An application for an enhanced DBS certificate can take anywhere from two days to three weeks. We recommend applying well in advance.
When does my DBS certificate expire?
Your DBS certificate is valid for three years, then a yearly check will be completed after three years if you've signed up for the DBS update service.
To be eligible for the update service, you must apply within 30 days of getting a new DBS. You can join the update service when you next apply for the DBS check, and you won't need to apply for another certificate again — but you must keep the original.
Sign up for the DBS update service.
When you register for the DBS update service, you'll be able to:
Take your certificate from one job to the next
Give employers permission to check your certificate online and see who has checked it
Add or remove a certificate


Can I cancel my DBS check?
You have six weeks from the date you receive an email from Disclosure Services to complete your application and your video ID call. If these steps are not completed within the 6 weeks, then the application will be cancelled and a new one must be started if you still want to apply.
Need longer than six weeks, or have more questions about completing the application? No problem. Just email clinical.governance@lantum.com and we'll be happy to make arrangements for you.