Locum Pensions 101: Part 1
Being a locum comes with lots of other things to think about. One of those is your superannuation. As Locums, your employers should not be deducting pension contributions at source, it is your responsibility to pay over contributions direct to the Primary Care Organisation (PCO) with whom you are registered. Here is a guide on how to do it.
Before you start:
First of all I would highly recommend you look at this decision tree from NHSBSA and decide whether you can join the NHS pensions scheme.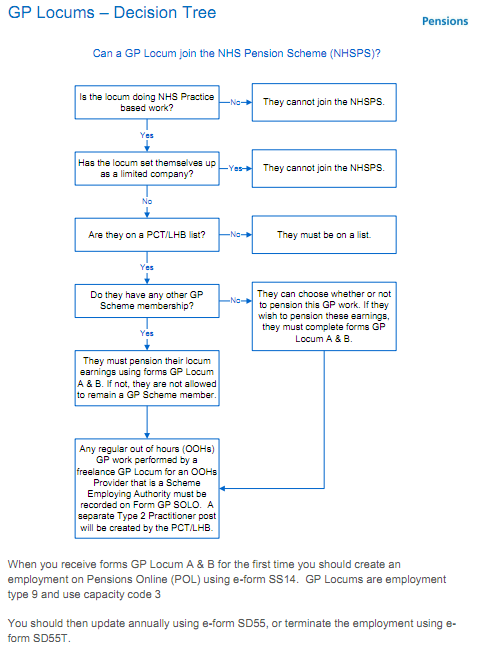 You also need to be on a Performers' list. When you register with a PCT/LHB to apply to be on their Performers list, you should be given a registration number. This is the number to enter on your GP locum forms.
By the way, if you are locumming in England and Wales, you will need to be on two performers lists...
Also, If you work as a GP locum in Scotland, or Northern Ireland, you cannot record this work on forms GP Locum A or B as these refer solely to pensionable GP locum work in England and Wales. Contact the relevant Scheme administrators for further advice
Paying your contributions and calculating how much you owe
First of all, download these two forms:
Complete Form A Carefully (read the notes) and send Form A to each Practice (there might be more than one) that you have been doing NHS work for. With your invoice at the end of each month
At the end of each month you also need to fill out GP Locum Form B. This is the record of all GP Practice based GP locum earnings you have received in a particular month and relates to form GP Locum A that you have been completing.
Note: Form GP Locum B is a record of the pay you have received in that month; not the locum work you have done in that month
How to I calculate the amount due?
Form GP Locum B has full instructions on how to calculate the amount of pension contributions due.( The amount will depend on your pensionable earnings. Expenses are NOT pensionable. Your pensionable earnings are your gross earnings less 10% deduction for expenses, i.e. 90% of your gross pay.)
How do I pay my contributions?
Unfortunately the system hasn't caught up with frictionless payments like the rest of the world! You have to send a cheque to your host PCT/LHB along with the forms. Your host PCT/LHB is the one you are registered with and will advise on where to send the cheque and who to make it payable to.
This is part of a multi-part series in which we seek to make pensions simple for GP locums.
Questions please contact Melissa.morris@lantum.com