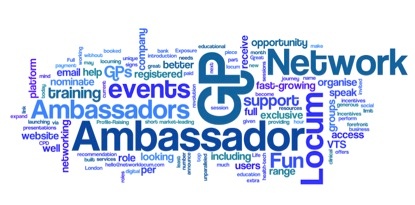 Nominate someone for our Ambassador programme
We're looking for an Ambassador
We are really excited to announce Network Locum (now Lantum) is launching a GP Ambassador programme.
Network Locum (now Lantum) was built with your needs in mind and could not have become the market-leading platform it is today without your support. As we expand, we would love to continue working with fantastic GPs and we are looking for an Ambassador to help promote our goals of providing better access to clinical education and sessions for GPs.
Our Ambassador would help organise educational or social events - at least 2 per month, and have the opportunity to speak at events or to VTS groups.
Being an Ambassador also comes with great range of benefits including exclusive networking events and support & training. This is a paid role.
Full Support
Ambassadors receive the full range of support to perform their roles well, with training, business cards, and resources as part of the role.
Profile-Raising Exposure
Ambassadors would receive an introduction exposure piece on our website and blog, and would be invited to our exclusive GP Innovation Forum networking events, as well as given the opportunity to speak at our CPD events, and to co-present 'Life as a GP locum' presentations to VTS training groups in and around London.
Fun
Network Locum (now Lantum) is a fast-growing company at the forefront of the digital revolution in healthcare services. Being an Ambassador offers unparalleled access to senior management in a fast-growing health-tech company and the rest of the Ambassador Network on our exciting journey to make locuming *that* much better.
To nominate a GP (or GPs) for this role, send a short email to hello@lantum.com including their full name, email address and location.
Only current registered users may nominate other users or themselves.