In The Spotlight - Rob Findlay, Owner and Founder of NHS Gooroo
This week we've been speaking to Rob Findlay, Owner and Founder of NHS Gooroo. We find out how he came to work in 'waiting time dynamics' and how technology can help improve the NHS and the experience of NHS Managers.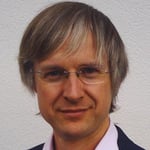 Have you always worked in the Healthcare industry? How did you get into specialising in waiting time dynamics?
I started off as a research scientist (studying liquid crystal polymers - of all things) but I didn't rate the job prospects in science, so went off to do something even worse-paid and joined the civil service. The Treasury put me in the health expenditure team, so that's how I got into health. It was a real buzz being at the heart of government, but being a country boy I didn't like living in London much, so I asked for a secondment and got one in Shrewsbury.
There I caught the waiting list bug from my boss Anthony McKeever ("Mac"), the hospital's Chief Executive. He had just finished delivering the maximum 2 year impatient wait for John Major's government (waits were so much longer back then). I loved Shrewsbury and couldn't bear to go back to London, so I stayed and found myself doing more and more research into waiting time dynamics, and developing ways to make that understanding useful to the NHS.
Much like yourself we're passionate about using technology to revolutionise the healthcare industry. Where would you like to see the NHS in 5 years?
Like everyone in the NHS I want to see it remain a free and universal service, but it will have to keep improving if it's going to stay that way. The NHS needs to get a lot better at anticipating and managing pressures, as opposed to responding to them head-on after they arise.
What are you working towards at the moment?
NHS managers are pretty good at the very short term, but they find it difficult to look more than about 6 weeks ahead because so many assumptions have to be made about who'll need treating and how many staff will be available.
And yet, that period of 6 -12 weeks into the future is really key, because annual leave often hasn't been finalised and sessions aren't booked up yet. This means change is so much more likely. Our work at the moment is about blowing away the fog, so that managers can see how things are likely to pan out over the coming months, anticipate the foreseeable pressures, and adjust hospital capacity in a more steady and measured way.
There's a big confidence hurdle to get over too. We need to show how the medium-range view is consistent with what NHS managers already know, so they can see it makes sense and have the confidence to act on it. We need to deliver all of this very detailed and complex modelling as an effortless part of routine management - and that is about automating and integrating it naturally into their existing performance monitoring.
It's all a long way from the very laborious one-off planning exercises that tend to happen at the moment. But it's absolutely necessary, if medium-range management and crisis avoidance is going to become a regular part of NHS life.
What does a typical working day look like for you?
I'm lucky to have many kinds of a typical working day. I could be at a hospital or CCG anywhere in Britain, which is fascinating and pretty intense whilst I'm there (every NHS organisation has its own unique pressures and hurdles). This is bookended with a lot of train travel where I can keep in touch with people by email.
Or it could be a day when I walk the couple of miles to my office in Shrewsbury, to drive forward our product development and make sure that people who are using our software are always getting the support they need. I typically analyse and comment on developments around national waiting times, or occasionally get around to all the admin associated with running a business.
What is your biggest challenge working for NHS Gooroo?
Healthcare is characterised by gross and often inexplicable variation, and every NHS organisation has enormously different pressures and planning needs on top of that. So, my biggest challenge is to make sure our software is designed to address that enormous variety in an elegant and universal way - and doesn't get encrusted with lots of bolt-on functionality or need costly customisation.
Who has most influenced your career and why?
I'm not sure I have a "career"… or is that the tidy narrative you put together with hindsight, after years of chasing random opportunities and interests?
The biggest influence would have to be Mac, not just because he got me into waiting times in the first place, but also for his energy, attitude, vision, and friendship over the decades. He has a knack for saying "OK, we're here at A, so where we want to be is H", and after several months of work I'd finally figure out what B, C, D, E, F and G are, and that (dammit) he was absolutely right.
What is the most important thing for General Practice?
The bit of the NHS I see that is closest to General Practice is commissioning, and I'd point to two things there;
Firstly, an act of referral is an act of commissioning – and because it's real, it's more powerful than all the plans, contracts and tenders that tend to keep CCGs busy. Secondly that "fire and forget" referrals are weaker than "command guided" referrals – there are benefits all round if GPs can remain more actively involved during their patients' journeys through secondary care. So if CCGs can become more about the involvement of GPs, and less about satisfying directives from above, then those are two principles that I think would make a huge difference.
What's your favourite thing about working in Healthcare Technology?
IT is so powerful because it inserts itself right into the detailed transactions of an organisation, even changing the way people relate, act, and think throughout their working day. That power can be a force for good or evil, so there is an enormous responsibility on the NHS to choose its technology wisely, and on software suppliers like us to design it well. The satisfaction of researching and developing really transformative software, and seeing it used to improve services and avoid problems in real life, is pretty hard to beat!
How did you find this weeks in the spotlight feature? We'd love to know your thoughts, send us a comment, facebook message or tweet us. Or if you know anyone who you think we should interview then email phoebe@lantum.com with your suggestions.

www.facebook.com/NetworkLocum

@wearelantum