In The Spotlight - Dr Neil Bacon, Founder of iWantGreatCare and Doctors.net.uk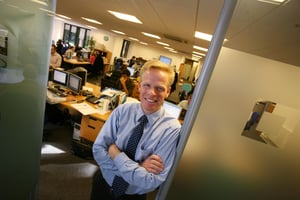 This week we're speaking to Dr Neil Bacon, founder of Doctors.net.uk and iWantGreatCare, he talks about how patient feedback can be particularly beneficial for locums, what inspired him to start up his own tech based companies and top tips for locums who want to expand their career paths.
You started your career as a hospital doctor, what inspired you to start up your own tech based companies?
I was a hospital doctor for over 20 years.
Both the businesses I founded, especially 'iwantgreatcare', I think of as healthcare organisations - the technology is really incidental, just a means to an end.
To be honest, any organisation that isn't centred on technology really is going to have trouble surviving.
iWantGreatCare is a platform for the public to rate and review health care services - what are the main goals the company would like to achieve?
The organisation is also a platform to help individual clinicians, practices and healthcare organisations collect continuous feedback.
The vision of the company is very simple; to transform healthcare by making transparent, continuous ratings and review the absolute norm across all healthcare settings.
iWantGreatCare will achieve this by collecting unprecedented volumes of feedback from all patients and their families, and then releasing every word of this transparently onto the Internet. This will help patients make better choices, with more information on which to base their decisions.
Of course the best doctors and healthcare organisations realise the massive potential of this to improve what they do. It is interesting to see so many rapidly embracing such a new approach to delivering healthcare and engaging with their patients.
The media are very focused on how the role of the GP has changed in the last 20 years. How does iWantGreatCare help to re-inspire health care professionals?
What other doctors tell me, is that being able to collect continuous patient feedback engages them with the real reason they went into medicine. Being able to see, in the words of patients, the difference they're making every day to the lives of those they care for, can be a truly powerful way to remember and connect with the underlying spirit of all those who work in health care.
Some GPs might be wary that patient reviews could be misconstrued or lacking in detail and potentially damaging to their career. Are there any processes in place to safeguard against damaging reviews or misuse of the site?
Yes, that would be a natural concern for some doctors. However, we now have nearly 1 million reviews on the site and there are robust systems in place to detect abuse or other manipulation, ensuring you can trust what you read.
Good doctors have nothing at all to fear from the feedback from their patients, indeed they can only gain.
Much like yourself, we're passionate about using technology to revolutionise the healthcare industry. Where would you like to see the NHS in 5 years?
I'd like to see the NHS catch up with the with the rest of the World. And by that I mean a complete obsession with meeting the needs of those they serve. Delivering excellent high quality care and doing things right (the first time!) to make sure that the experience of all patients is as good as it can possibly be. From my 20 years working as a doctor in the NHS, I am quite sure that these aims are shared by the vast majority of those who work in the NHS.
Technology can make this so much easier, capturing continuous feedback from all our patients is one example where we can learn from what innovation has done for other sectors. The technology itself should disappear, it shouldn't be seen by either patients or those who work in the NHS. People don't look at trip advisor or Amazon and think about the technology, they just know it will help get the information they need. We need to make sure that this is the same across all of healthcare.
What was your biggest challenge when setting up iWantGreatCare?
Not enough hours in the day!
Who has most influenced your career and why?
Patients. Every patient I have ever looked after, and every patient I see being cared for in the NHS today.
Do you have any tips for GPs who want to expand their career path?
Just do it. If you have a passion or a vision, then it is up to you to make it real. I can see no excuses for any doctor in the NHS today not to make a difference. There is so much need, so much demand, and so much opportunity.
Finally, how do you feel iWantGreatCare could be particularly beneficial for locum doctors?
The aim of iWantGreatCare is to make it really simple and easy for all doctors to collect continuous feedback from their patients. For locums especially, this makes it easy to collect the feedback needed for appraisal and revalidation.
Every doctor that registers will get a personalised webpage and their own specific URL. Simply giving a card to each patient and asking them to provide feedback, automatically builds your online portfolio of patient feedback. It really couldn't be easier.


www.facebook.com/networklocum

@wearelantum
We want to know your thoughts...
Let us know what you think about this article: Comment below or tweet us.
If you'd like to be featured in 'In the spotlight' send us an email using the form below, we're always interested to hear about the work of our GPs and other inspiring healthcare professionals.
[contact-form to='phoebe@lantum.com' subject='Can I be featured in %26#039;in the spotlight%26#039;'][contact-field label='Name' type='name' required='1'/][contact-field label='Email' type='email' required='1'/][contact-field label='Comment' type='textarea' required='1'/][/contact-form]