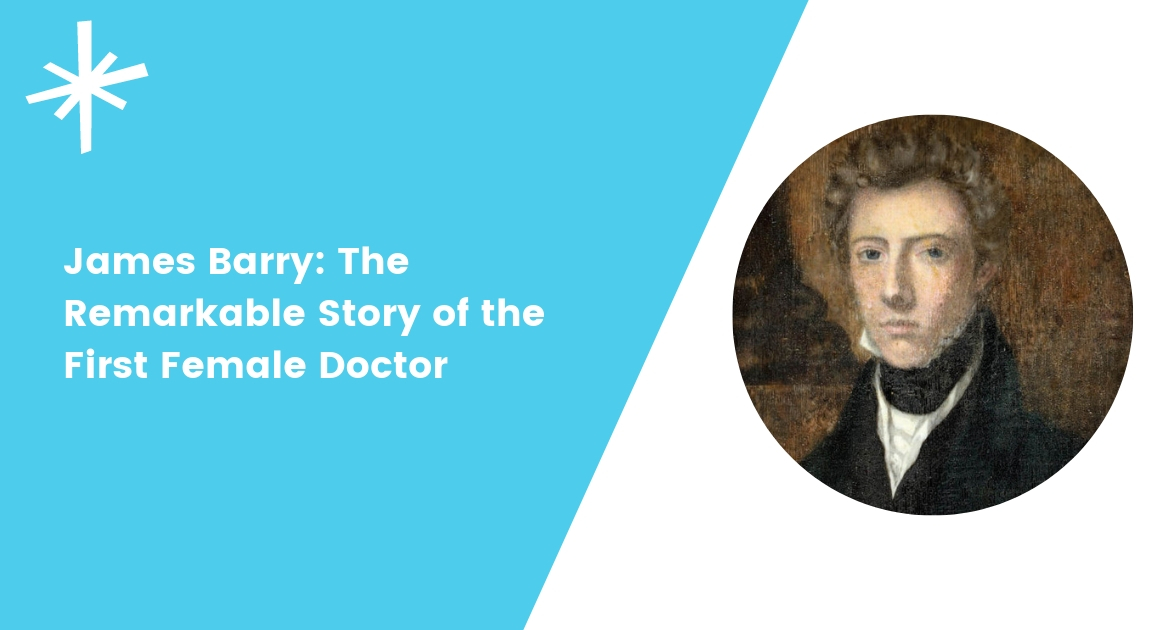 James Barry: The Remarkable Story of the First Female Doctor
In honour of International Women's Day (8th of March, 2019), Lantum pays tribute to Margaret Ann Bulkley, the first documented female doctor, who lived the majority of her life under the male persona of James Barry, to be able to pursue a career in medicine during a time when only men had the right to become doctors.

Born under the name of Margaret Ann Bulkley in Cork, Ireland in 1789, she spent her childhood living as a girl, and was said to have constantly envied her older brother for having more freedom and rights than her – more specifically for his ability to join the military.

Around the age of 20, Bulkley took the name of her deceased uncle, a famous artist named "James Barry" and started dressing like a man in order to attend medical school in Edinburgh. From then on, to fulfil her profession as a doctor, Margaret concealed her true female identity until the day she died.
The first female doctor
By 1812, she qualified as a doctor (around 50 years before the first female doctor was officially acknowledged in the UK) and moved to England to join the Royal College of Surgeons.
She then joined the army and was soon promoted to Colonial Medical Inspector, where her first mission aimed to improve sanitary conditions in the British outpost of Cape Town, South Africa. During her time there, she is said to have performed one of the most remarkable surgeries in the history of healthcare: the first successful Caesarean section in the African continent, in which both the mother and child survived the operation.
Later in 1827, James Barry gained the title of Surgeon of the Forces and moved to the island of Mauritius for a short period of time before returning to England to treat a personal friend of hers, Lord Charles Somerset, who had given her a step-up earlier in her career.
It is said that Somerset was aware of Barry's secret and that they were presumably involved in romantic affair. Barry later served in the West Indies where she was once again promoted to Principal Medical Officer, with the goal of improving living conditions for the colony troops, residents and prisoners.
Barry was often teased by colleagues for her voice and feminine appearance and, as a result, learned to assert herself by being highly outspoken, argumentative and borderline aggressive at times. She was said to be outraged by any forms of social injustice and suffering of minorities, which led her to frequently arguing with her superiors during colonial missions.
A "hardened creature"
In 1851, whilst James was visiting war-torn Crimea, Barry and Florence Nightingale had an altercation in which 'he' scolded Florence for wearing only a cap in the sun.
Moving forward from that day, Nightingale expressed intense hatred towards James Barry for "his masculine brutality". Little did Nightingale know she had argued with another woman – up until Barry's death, when James Barry's true gender was revealed. Nightingale reacted to the news, saying: "After he was dead, I was told that Barry was a woman [...] I would say that Barry was the most hardened creature I ever met."
Barry had requested that after her death, her body should not be examined and be immediately buried: proof that she wished to maintain her image as an eligible and successful doctor, even after her death. Instead, the charwoman who prepared her body chose to reveal her gender to the press, resulting in public scandal and people claiming they had known all along.
Uncovering the truth
Because it was illegal for women to serve at the time, the British army restricted access to her documents for 100 years, to hide the truth that a woman had successfully been part of the military.
There's still a lot of information that is unknown about James Barry. Was her true identity ever discovered? Who did she confide her secret to? Did she truly identify as male or was it purely to obtain privileges only afforded by men?
These are questions that may forever be left unanswered.
To this day, her story is seen as both eccentric and significantly momentous in the history of medicine. Margaret Ann Bulkley: a brilliant surgeon, remembered for being ahead of her time and paving the way for future female practitioners.