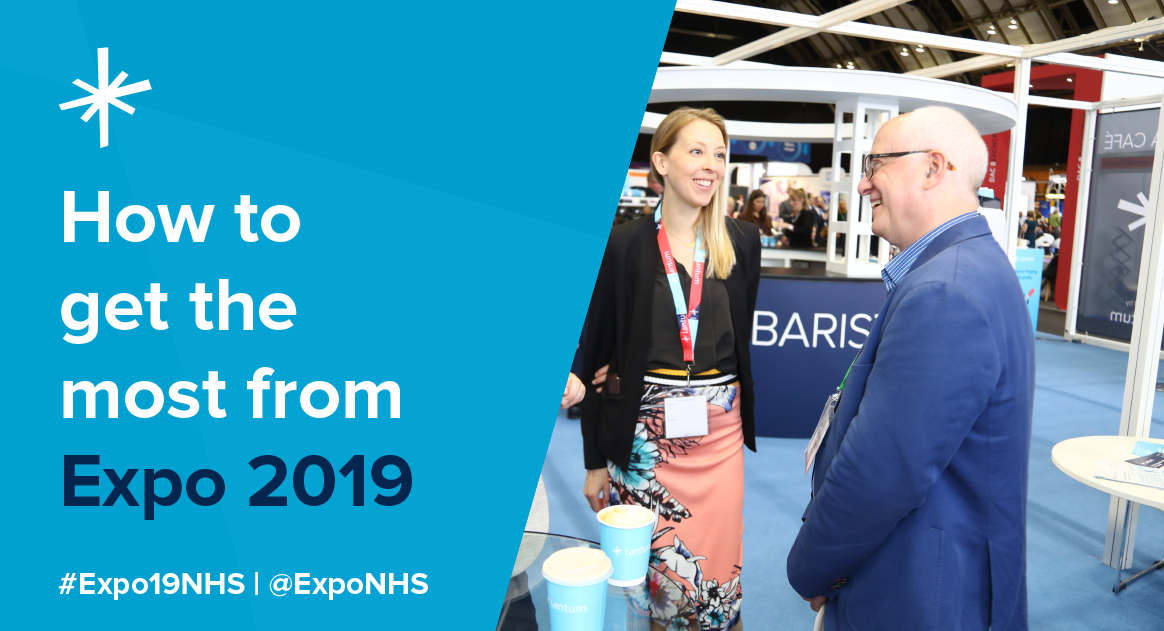 How to get the most from Expo 2019
NHS Expo, one of the biggest events in the healthcare calendar, is fast approaching. But with so much to see, how do you make the most of the two days?
Health and Care Innovation Expo is the biggest NHS-led event of the year. This year will see around 5,000 people filling out the halls of Manchester Central on 4 and 5 September, including some of our team (at Stand 31).
The theme this year is all about bringing the NHS Long Term Plan to life. And there's a lot to look forward to, with some big speakers including Simon Stevens, Chief Executive of NHS England and Matt Hancock, Secretary of State for Health and Social Care.
There's a huge amount to take in, and relatively little time, so here are our hot tips for getting the most from the conference.
Plan in advance
Realistically, it's unlikely you'll manage to see everything at the conference, so it's best not to try. But don't turn up with no idea of what you want to see either – you could end up missing something brilliant.
Take a look at the online agenda which has info on every single session running. Luckily some are running multiple times, so you might be able to work around clashes.
Some of the sessions we've already picked out include AI - transforming health and care through data-driven technology and The Productivity and efficiency challenge facing the NHS as it embarks upon delivering the NHS Long Term Plan.
And make sure to look carefully at some of the talks flagged up as the 'top picks' of various different people in the NHS England Senior Leadership Team.
It's also a good idea to go through the Exhibitor list (where you'll find us), to see which stands you want to visit.
Get clued up on Digital Transformation
As well as attending plenty of sessions, leave time to take a look around all the different Feature Zones.
These zones have been specially designed to cover different key aspects of the NHS Long Term Plan, and we think the Digital Transformation zone is particularly worth flagging.
Chapter Five of the NHS Long Term Plan sets out a wide-ranging and funded programme to upgrade technology and digitally-enabled care across the NHS. The Digital Transformation zone is there to demonstrate best practice from around England, and explore how digital transformation is happening across the sector.
But that's not the only place to look. We've got some great case studies to share on our stand which explain how using our digital workforce platform can save NHS organisations some serious money (we're talking £370,000 a year for just one hospital emergency department).
Understand what really matters to staff
The People Zone is another one that should be on your must-visit list. We all know that our NHS is short staffed and that the current political climate could potentially make it even worse.
As the People Zone blurb clearly lays out: "The way we work needs to be more collaborative, more agile and flexible, more multidisciplinary. And together we need to face into the current workforce shortages honestly and urgently."
This is something we hear a lot both from organisations and professionals using our platform. As well as helping organisations manage their staff more efficiently, we want to make life easier for healthcare professionals and give them more control over their work.
That's why we'll be demoing features of our platform like next-day payment and our smartphone app that helps staff manage their diaries and documents on the go. And we'll be sharing the hard evidence about how they help with staff retention too.
Find out more about cross-organisational working
The Primary Care and System Transformation feature zone will set out the vision for primary care networks (PCNs) as the building blocks for successful integrated care systems.
One of the many challenges associated with the transition to PCNs is giving staff the ability to work across organisational boundaries.
The zone is going to be exhibiting best practice from around the country. One example of how cross-organisational working can be achieved is Dorset's Integrated Urgent Care Service, which is using the Our Dorset Passport (powered by Lantum). This is enabling clinical and non-clinical staff to work for multiple organisations using only one contract.
Take time to mingle
The great thing about Expo is that it's not just about the talks and exhibits – the other delegates can offer brilliant opportunities for learning too.
Make sure you leave time in your schedule to network and speak to people. It's often in these conversations that we realise which trends that are consistent across the country and how to turn a concept into reality. Plus it's always reassuring to find you're not the only one facing a challenge.
See you there!
We hope you'll head over to see us at Expo (Stand 31). As well as demos and case studies, we also have some great goodies up for grabs. If you know you can't make it, you can always get in touch at enquiries@lantum.com or comment below!