Thoughts on the abolition of practice boundaries part 1 – Continuity of care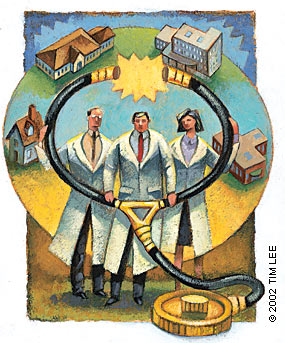 Top of the pile on the list of GP concerns has been the threat to abolish practice boundaries. Andrew Lansley recently announced that pilots to remove boundaries which will be taking place in London, Manchester and Nottingham from April 2012, to much controversy.
Looking after patients at a distance causes all manor of problems we hear; Medication tourism, increased health inequalities are arguments against, as – more popularly is the argument that it will destroy continuity of care. It is difficult to know what will happen, and piloting is probably the right step to fully understanding the consequences, both intended and unintended.
I will be looking at all of the arguments in turn on this topic and providing my opinions both for and against, part 1 looks at continuity of care.
One of the main arguments is that continuity of care will reduce if practice boundaries are abolished. Those registered away from home will not be able to have home visits; In her letter to Mr Lansley, Dr Clare Gerada argues that if patients are 'caught out' at home it is likely to result in expensive A&E attendances instead of a visit from their local GP.
Further, the argument goes that the GP close to home is better able to spot hidden signs of alcoholism, domestic abuse or early signs of underlying mental or physical illness and can respond by prescribing appropriately and avoiding hospital admissions.
I struggle however to see how this argument stands up. If practice boundaries are abolished, the patient is going to register where they will go to the GP more often, not somewhere where they will attend less. Lets take, someone who lives in a London suburb, but works 5 days a week, 9am-6pm (during practice opening hours) in the City. This person will probably register close to work. This will allow them to attend primary care as soon as they feel they need to, taking off around 25 minutes from their place of work (vs. 2 hours or more depending on the commute home). Because of the barriers to visit, this person would rather store up multiple ailments to take to the GP during a 10 minute slot causing delays for the GP, or allow for the ailment to exacerbate, possibly leading to an expensive A&E attendance.
The GP close to work will see the patient more often, and therefore continuity of care is better. This GP gets to know the patient far better than the GP close to home and is better able to spot other hidden issues as described earlier.
This blog is part of a series of blogs providing opinion on the proposed abolition of practice boundaries as part of NHS reforms in the UK.
If you have any questions, please contact melissa@lantum.com
Melissa is the founder of www.lantum.com