Top Five Fictional Doctors
Well, sort of. GPs do seem to be woefully under represented on screen. (Disagree? Tell us below)
The Dad Like Genius
Oh Karl Kennedy, unsung Lothario of Ramsay street. Karl started life as Neighbour's resident GP, going on to receive cult-like acclaim for his varied antics (he's been married twice and had 4 affairs) He's even got a tumblr dedicated to him, a sure sign of being totally embraced by the masses.
Two of Karl's Best Storylines:
1. Karl comes up with a plan for a nude calendar to help with fire repairs
2. Karl starts a band called The Right Prescription and plays drums
Karl is played by Alan Fletcher who, when not having to fulfill his GP duties to Lou et al, has been known to tour universities with his real life band Waiting Room.
Honorable mention: Dr Legg, Eastender's original GP. Favorite of Dot Cotton.
The Damaged One
Lots of fictional doctors are seen to be quite damaged, dark and brooding (i.e McDreamy). Our pick of the lot is Dr John Watson, military Doc with an odd taste in friends.
Although Martin Freeman is a very good actor, he's not a smoulderer, but regardless, the nation has taken this unsung hero into their hearts.
When not watching Sherlock Holmes fall off buildings or being mysteriously summoned all over London by shady associates, Dr John Watson actually is a practicing GP. Though he doesn't get to work a lot of the time. Has he tried Locuming?
Not afraid to be innovative, Sherlock Holmes' Blogger proves he is a modern medical professional, embracing Social Media to tell his story.
Honorable mention: Doctor Jack Sheppard of Lost. Swagger aplenty.
The Very Weird one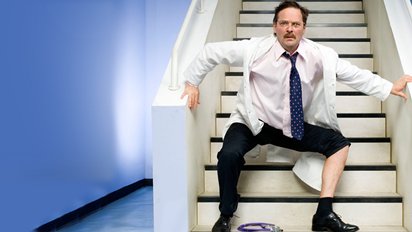 Dr Alan Statham of Green Wing is not a GP, he's a consultant radiologist, but worth a mention.
Alan's life is a catalogue of disasters, he once accidentally murdered a dwarf in his on going passionate crusade for Hospital Manager Joanna Claw's heart.
Hobbies include soprano recorder, a hatred of crazy paving and decanting his bodily fluids into lover's tokens.
The Maverick
Females are sadly under represented as practising physicians in fiction. Since a google search yields pitifully little and a leaning towards attractiveness over substance, we have to go back in time. (We can borrow a Tardis from that other famous time travelling Doctor)*
From rural 19th Century Colorado, Dr Michelea Quinn changes attitudes and rallies against the small conservative town she is charged with healing. Her predisposition towards adventure and borrowing from Indiana Jone's wardrobe cemented 'Dr Quinn: Medicine Woman' as a heroine that we might learn something from.
As a maverick, she has a lot to work with, promoting modern medicine, teaching Darwinism and making it clear that shockingly, a woman can be a doctor.
*The Doctor might be a GP, or his parents could have been particularly hopeful in naming him, it is unlikely we'll ever know.
The Cultured One
Technically an optometrist, Dr T.J Eckleburg is the spooky, disembodied pair of spectacles that looks out over F. Scott Fiztgerald's New York of The Great Gatsby.
"… above the gray land and the spasms of bleak dust which drift endlessly over it, you perceive, after a moment, the eyes of Dr. T.J. Eckleburg. The eyes of Dr. T.J. Eckleburg are blue and gigantic – their retinas are one yard high. They look out of no face but, instead, from a pair of enormous yellow spectacles which pass over a nonexistent nose … But his eyes, dimmed a little by many paintless days under sun and rain, brood on over the solemn dumping ground."
Though only a description of a billboard, mentioning T.J Eckleburg and his godlike view is a sure fire way to make everyone think you're not only literary, but achingly deep and hip.
Have we got it right? Did we miss out someone crucial? Let us know!